Swansea skydivers remembered 30 years after Mannheim crash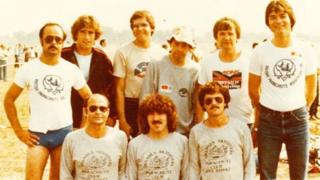 Nine Swansea skydivers are being remembered exactly 30 years after they were killed in a helicopter crash in Mannheim, Germany.
They were among 46 people who died on 11 September 1982, when a Chinook helicopter crashed into a motorway.
Members of the Swansea Skydiving Club had been invited to take part in an air show to celebrate the 375th anniversary of the city of Mannheim.
They were part of a group trying to set a free-falling world record.
Thousands of spectators gathered to watch parachutists from the twinned cities of Swansea, Mannheim and Toulon in France, try and form the largest ever joined circle of free-falling skydivers.
However, the helicopter developed problems and an emergency landing was attempted when the rear rotor blade detached and the aircraft crashed on a nearby motorway.
In total, 14 people from south Wales died.
To mark the 30th anniversary, councillor Dennis James, Swansea's Lord Mayor, said: "Although 30 years have passed the Mannheim air disaster is still very much in the memory of everyone in Swansea.
"It is often suggested that Swansea is a city with a wonderful village atmosphere, and therefore Swansea people will never forget the loss of their own in such tragic events."
Peter Ridgewell's son Simon was one of the skydivers killed.
'Great bunch'
The retired architect has visited Mannheim many times to remember the victims.
"They all had the same sort of attitude," he said.
"Whatever money they had, they spent on jumping, kit,...
"With a backpack and a tent they used to turn up all over the place.
"They all used to come from near and far to do a bit of parachuting, and they'd often stay at ours.
"I never knew who I was going to fall over on a Sunday morning.
"They seemed to be a great bunch. They enjoyed life.
"Simon loved flying, but when he tasted parachuting, then it became full-time."
The Swansea Skydiving Club had been established by Paul "Kipper" Kibblewhite and by Frank Fonfe, who had married just one week before the Mannheim Air Show. Both were killed in the crash.
Months after the air disaster, experienced skydiver David Howerski was invited to move to Swansea to help keep the club going. He has lived in south Wales ever since.
'Shock'
"There are fatalities in parachuting, but it's very unusual for a large-scale accident like that to happen, so the impact was quite large," he said.
"It affected more than 40 families and had an impact right across Europe.
"I still remember the shock I felt at the time, at the scale and scope of it.
'I'm now in my late sixties but I still skydive.
"Thinking about that time, I'm reminded of the vibrancy of youth.
"We are aware that there are consequences sometimes, that there is a price to be paid but you don't think it's ever going to happen to you."
'Absolute disbelief'
John Boxall, a chief instructor from Hereford, had helped to establish the Swansea Skydiving Club and knew all the members there.
A lorry driver, he had planned to have travel to Mannheim that weekend to take part in the display but had a last-minute work commitment.
'I was devastated at the time as we'd all been looking forward to it for ages," he said.
"I was really upset with my boss to the point of almost throwing in the towel and making my own way up to Mannheim.
"But it wasn't the done thing to do and ironically it saved my life."
Describing the moment he learned of the accident in a telephone call from his wife, he said: "Absolute disbelief.
"I knew the families of several of the guys, and for me it was a mass of mixed emotions.
"All the guys involved were well-known and well-liked throughout the skydiving community.
"These guys were in effect some of the pioneers of modern skydiving.
"They were very unique people and we don't ever forget about them."