Port Talbot biomass energy plant faces wait on pellets bid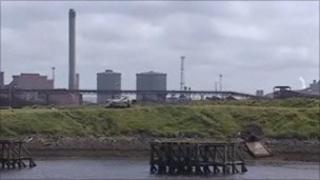 The company behind plans for a huge biomass power station fuelled by wood chips will have to wait to find out if they can burn wood pellets as well.
Prenergy Power was given permission five years ago to build the £400m plant in Port Talbot but building work has yet to start.
Neath Port Talbot Council deferred the decision on Tuesday.
A protest group demonstrated outside the council building claiming wood pellets increase the risk of fire.
"From our point of view, it was the best result we could ask for," said Jeremy Bailey from Port Talbot Residents Against Power Stations (PT-Raps).
"The committee asked for a report on the storage facilities and the moisture as it the pellets need to be kept dry.
"It was a very good debate, but the biggest question is why haven't they started to build the plant but nobody has answers for it."
No date has been set for when work will start.
Mr Bailey said the whole scheme, which involves transporting three millions tonnes of wood half way across the world to burn it for power, was "crazy".
He added: "It is unsustainable and wood pellets are 30% more expensive than wood chip fuel.
"They are also a major fire hazard as they produce a dust which can be ignited by a spark."
Prenergy Power could not be contacted for a response, but said in its application to planners that they wanted to add wood pellets because shipping and handling is more efficient.
Last year, Environment Agency Wales (EAW) agreed to ease limits on emissions at the proposed plant and a revised permit also allows wood pellets to be used.
When the plans were originally approved, the firm said the plant would create 150 jobs in Port Talbot will have the capacity to power half the homes in Wales.
But PT-Raps held public meetings, collected 7,000 signatures in a petition, and protesters marched through the town centre against the proposals before going to court in 2008.
Tuesday's protest also marked the completion of raising £46,000 to cover the legal costs they were left with after failing to get a judicial review against the plans.
"The wider issue is that as a group, we have been paying off some court costs over the last four years.
"We have finally raised enough to pay all of our costs because of the generosity of the people of Port Talbot and we are pleased that the power station has not yet been built and we hope it never will.
"We had a terrific crowd and most of them came into the meeting."