Portuguese man-of-war sightings off Pembrokeshire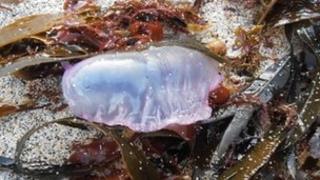 Swimmers on the Pembrokeshire coast have been warned to keep a lookout for the potentially lethal Portuguese man-of-war.
The jellyfish-like creature has been spotted off west Wales, as well as in Cornwall and on the Irish coast.
Stings from the creatures can cause severe pain, and in very rare cases, death.
Marine experts say sightings of the man-of-war have been increasing in recent years.
Dr Peter Richardson of the Marine Conservation Society (MCS) said it was believed that the current increase in numbers suggested a "stranding event".
'Bizarre creature'
"The MCS has been running a survey since 2003 and we've had three major stranding events in that time," he said.
"Now it looks like we are having another one this year."
Despite their appearances, the Portuguese man-of-war is not a true jellyfish.
"In fact they are a very bizarre creature," explained Dr Richardson.
"They are made up of a whole group of smaller animals - polyps - that have different body shapes to perform different functions, and they act together as a whole, as one animal.
"Unlike jellyfish, the Portuguese man-of-war has an air filled sack. It looks like a Cornish pasty-shaped balloon. They are quite distinctive - you can't miss them."
Its normal habitats are the warm seas off Florida Keys, the Gulf of Mexico, Indian Ocean, Caribbean and Pacific.
However, winds and Atlantic currents can force the creatures closer to the British shores.
The tentacles pose the threat to humans, sometimes stretching up to 50m below the surface of the sea where the animals float.
"No-one has been killed by Portuguese man-of-war stings in the UK so far - but they have elsewhere in the world," said Dr Richardson.
"Usually when the sting hasn't been treated properly and the tentacle has been left on the skin, and while they are on the skin they continue to sting and the level of venom becomes toxic."
The MCS said sightings of the creatures should be reported to them online, preferably with a picture, as they continue to monitor the situation.