Cardiff councillor Ralph Cook urges 'car-free' suburb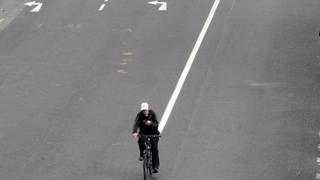 A senior Cardiff councillor wants the city to think of creating a new car-free suburb.
Ralph Cook said the city has to find new ways of encouraging more people onto public transport if its roads and economy are not to grind to halt.
The cabinet member for transport wants to look at the feasibility of making one of five new sites in the city's development plan a car-free zone.
It would make a locality of up to 2,000 homes largely vehicle free, he said.
Mr Cook, who is Labour councillor in the Trowbridge ward, said he wanted to "tease out the possibilities" that exist for putting pressure on developers as the local authority considers local development plan proposals for some 45,000 homes.
The draft development plans, proposing new suburbs on greenfield sites in the north and west of the city, are expected to voted on by the full council next month.
Mr Cook said the city did not have the room for each new home to have "a drive that can take two cars and a public road that can take a third".
He said he believes the car-free suburb would be the first of its kind in Britain.
He said: "I'm not anti-car, far from it, but unless we challenge some of the ways we live, people will not fully realise the damage they are doing.
"Unless we encourage more people on to public transport, the economy of Cardiff and the city itself will grind to a halt.
"I want to find out what legal and other influences we can use to try and create at least one locality of perhaps up to 2,000 properties that in principle would be reduced-car or car-free.
'Mobility problems'
"It does not mean that owners won't own cars, they would just be parking them at communal garages or parking areas."
Better public transport would also encourage drivers of the 45,000 cars that come in to the city every working day to leave their vehicles at home, he said.
Mr Cook said he is in favour of a "traditional British" housing layout model rather than a European layout relying more on blocks of flats.
Roison Willmott, national director of the Royal Town Planning Institute Cymru, said terraced housing remained an efficient way of house building.
She welcomed Mr Cook's move but said it would be difficult to adapt existing urban areas.
'Draconian options'
She said: "You can provide local services - shopping, employment, medical care - within a development so people can walk there but you also have to have an extremely reliable and integrated transport system.
"You also have to think about people with mobility problems - some would need access to a car to go anywhere."
Tim Shalcross, head of Wales policy for charity IAM, the research and public policy arm of the Institute of Advanced Motorists, said: "There's little evidence of demand for car-free suburbs but quite a lot where we can look at "shared spaces," which seem to get a similar objective."
Shared spaces were built in a way that constricted car movement, he said, often being paved rather than having a road finish, so drivers recognised that other users, such as cyclists and pedestrians, had equal rights.
He said: "If there's some genuine demand for a lot of people to live in a car-free zone, then okay, but if not, let's look at less draconian options. They can work well."