Play Streets: Swansea roads may close for children to play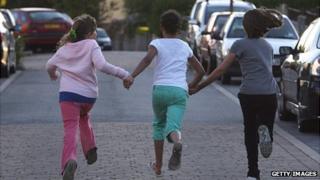 A project which will allow children to play safely on the streets of Swansea is to be piloted.
Roads will be closed to traffic in three or four streets around the city for a few hours once a week during the Play Streets trial.
They will be selected from ones that have previously held Jubilee or royal wedding street parties.
If successful, Swansea council could roll the project out to other parts of the city.
Mitch Theaker, cabinet member for opportunities for children and young people said: "The purpose of the Play Streets is to create a safe and secure play zone for children in a busy and bustling city.
"We want to create areas where children and teenagers can play safely without the danger of traffic, giving parents peace of mind and potentially creating a greater sense of community.
"Initially, three or four streets that have previously hosted Jubilee parties or royal wedding parties will be used to pilot the scheme.
Small-scale
"Roads will be closed off to cars for a few hours once a week to allow children to reclaim their streets and have a chance to play."
About £5,000 worth of funding has already been secured towards the pilot scheme.
It would be small-scale and introduced in local Swansea communities during quieter times of the day and week.
The aim is that Swansea council would support the project during a pilot phase and would give all the training needed before the local communities start running the scheme themselves.
Bristol already runs a similar type of scheme which has proved to be successful.
Meanwhile, a senior Cardiff councillor wants officials to look into the feasibility of creating a car-free neighbourhood from a future suburb being developed in the city.
Full council in Swansea is set to approve to running a pilot in the next few weeks, while consultation on which streets could accommodate the scheme is ongoing.
"Residents from right across the city and county will be asked to recommend where they would like to see the initiative brought in," Mr Theaker added, should the pilot be successful.
"Over time, residents on the streets would be able to take control and close off the streets themselves which would not only allow the programme to take place on a more regular basis, but it will also hopefully help generate a stronger sense of community."