Abertawe Bro Morgannwg Health Board cuts overtime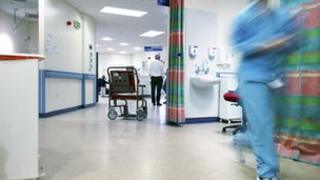 Health officials have cut overtime and agency staff after overspending by almost £7.5m in the first four months of the financial year.
Abertawe Bro Morgannwg University Heath Board (ABM) says the current financial position is "a cause of great concern".
ABM has a £1.2bn budget, but needs to save £45m this year to break even.
In a report to the board, it says that cutting back on overtime and agency staff has helped reduce the monthly overspend, with July's figure at £1.5m.
Finance director Eifion Williams said: "The health board identified the requirement to deliver savings of £45m in 2012/13 to achieve a balanced financial position.
"This saving is to be achieved against the backdrop of a second year of zero uplift in allocation from the Welsh government.
Further savings
"The health board has had a challenging start to the financial year and has reported an overspend of £7.468m to the end of July.
"The July month overspend was £1.53m, a reduction on the monthly overspend levels experienced in the first quarter of the year."
ABM covers an area of south Wales including Swansea, Neath Port Talbot and Bridgend.
In a statement, the board said it was dealing with major financial challenges.
"We have an annual budget of over £1.2 billion, and at the end of July we had spent £7.4m more than we should have by that period within the year.
"One of the main reasons for this was an unusual and unexpected surge in the number of trauma and emergency cases arriving at our hospitals in the spring and early summer."
It said it had closely looked at the use of agency and bank staff, as well as overtime.
Agency staff were expensive because they are provided by commercial companies but a less expensive option was using bank staff, employed by the health board directly.
"We have introduced different ways of working which use staff more effectively and decrease the need for nurse agency and bank staff," said the health board.
"Our latest figures, due out later this week, are expected to show that compared with August 2011, the use of agency staff in August 2012 was down by 90% as we get to grips with managing this overspend".
The latest figures available show that all health boards in Wales are struggling to meet their savings targets for this financial year.
'Robust process'
These included Cardiff and Vale University Health Board, which reported a £12m overspend for the first four months of the financial year, and Betsi Cadwaladr Health Board, which had an overspend of £8.6m after the first three months.
A Welsh government spokesman said: "All NHS organisations have plans in place to achieve financial balance this year.
"The Welsh government has a robust process for monitoring progress in delivering these plans.
"NHS organisations fully understand their statutory responsibility to achieve financial balance, and we are continuing to work with them to deliver that outcome."