Neath Port Talbot Hospital given £2m funding boost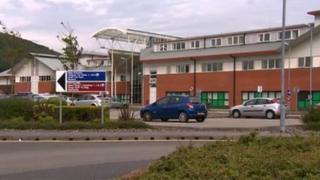 More than £2m is being invested in Neath Port Talbot Hospital to develop new or expanded services at the site.
The hospital no longer has acute medical services because of a shortage of doctors, so patients have to go to Swansea or Bridgend instead.
But Abertawe Bro Morgannwg University Health Board (ABM) said the hospital will still play an important role in the board's plans.
Changes include a new specialist IVF unit and expansion of the urology unit.
Paul Stauber, ABM's director of planning, said: "The investments being made in new or bigger services at the hospital demonstrate our commitment to its future.
"We want to expand the key role it plays in delivering health care alongside our other hospitals.
"These new Neath Port Talbot Hospital services will treat patients from across the Health Board area - and in some cases even beyond that."
Last month, all 999 emergency admissions and GP referrals to the hospital ended and beds on one of three wards as well as the medical assessment unit transferred to neighbouring hospitals.
Expansion
Those changes, which have now been completed, came because of difficulties recruiting enough doctors.
But the nurse-led minor injury unit remains available 24 hours a day to all patients, not just those in the Neath Port Talbot area.
The new funding into the hospital includes the specialist IVF unit which will be one of only two NHS centres in south Wales providing IVF fertility treatment, with the other being Cardiff. It is due to open early 2013.
The existing urology service will have a major expansion, while breast surgery will cater for an increasing number of patients from Swansea.
An ABM centre of excellence will also be set up in the orthopaedic service for shoulder, feet and ankle joint surgery and will involve more than 2,000 operations a year.