Swansea urban village plans boosted by funding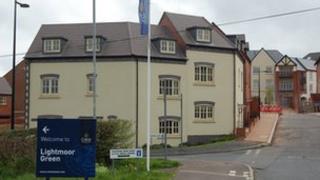 Plans for a sustainable urban village near Swansea have been given a boost with Welsh government approval of funding for a feasibility study.
The study will test plans to create a mixture of homes, job and community facilities.
It would be situated on a 100-hectare greenfield site at Felindre where the National Eisteddfod was held in 2006.
A similar village is currently under construction in Coed Darcy, Swansea.
Roisin Willmott, national director of Royal Town Planning Institute Cymru, said the idea behind urban villages was to get a mix of different types of housing, some for sale, some for rent, some affordable social housing, along with employment and community uses.
'Best practice'
"People can walk much more than they would on a normal housing estate that you might find nowadays," she said.
"It's a much more sustainable community type of creation, but it's also important that it is connected to other places nearby."
Ms Willmott added that plans for another village at Llanwern, Newport, were in the early stages but that no developments had yet been completed in Wales.
Urban villages in England date back to Victorian times, with Bournville in Birmingham, built in 1900 to house workers at the Cadbury chocolate factory, seen as the original template, according to Ms Willmott.
In Shropshire a development is under way which is trying to reproduce Bournville in a 21st Century setting.
Outline planning permission was granted for Lightmoor Village, in Telford, in 2003 for 800 homes which would be a mixture of owned, rented and shared-ownership.
Another example is the Prince of Wales-backed Poundbury, Dorset.
Ms Willmott said planners could work to have more community services included in developments.
"It depends what proposals come forward," she said.
"These ones often have government or some kind of trust behind them, whether it's the Prince's Trust or the Bournville Trust."
She added there are requirements under planning agreements where developments need to be "sustainable" in terms of community need.
"It might be that the developer puts forward cash to the local authority to bring that forward," she said.