Llandovery College: Doors re-open under new company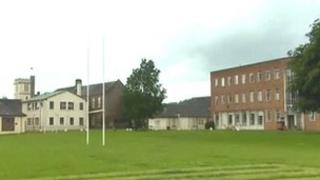 A private school in Carmarthenshire which ran up debts of about £4m has re-opened under a new operating company.
Llandovery College is now being run by a new company after the previous administration ran into trouble with historic debts.
Staff were told they could claim state redundancy payments for loss of earnings last term.
The school said it had seen a 30% rise in pupils at its prep school as it prepared to re-open on Monday.
Earlier this year, it was estimated that the college owed about £2m.
However, it was later confirmed the debt was about double that figure, and liquidators Grant Thornton told BBC Wales creditors other than the taxman or the bank were "very unlikely to get a penny".
A number of local firms are suppliers to the college.
Backing
Founded in 1848, the school's past pupils include two Archbishops of Wales, singer Rhydian Roberts, and a string of sporting stars including rugby internationals George North and Alun Wyn Jones.
Llandovery College is both a private company and a registered charity operating under the direction of the trustees.
At a meeting in July, more than 100 parents of pupils at the school backed warden Guy Ayling's proposals to close the company operating the school and form a new company.
At the time, the teaching union NASUWT Cymru described meetings with college leaders as "productive," with staff being transferred to the new operating company, with the expectation that they would be paid from August.
The union had said it was hoped an agreement could be reached with the new company to pay lost income for "most members of staff".
There were 292 students last year, but the college hopes for numbers to rise to 320 from this term.