DVLA workers across Wales stage a three-hour walkout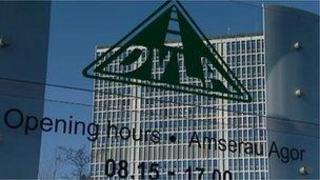 Staff at DVLA offices in Wales and across the UK are staging a three-hour walkout over job cuts and working conditions.
Workers at Swansea's headquarters have joined colleagues from Cardiff and Bangor, where offices have been threatened with closure, in the strike.
Staff at the Department for Transport's service centre in Swansea, which could be privatised, walked out at 12:00 BST.
Friday afternoon's walkout is the fourth at the DVLA since June.
Dave Warren, from the Public and Commercial Services (PCS) union, said: "We don't do this lightly, but there are some serious issues facing DVLA workers and it demands a serious response."
A spokesperson for the DVLA apologised for any inconvenience office closures would cause.
As a result of the closures, motorists are asked to use the DVLA's website to renew their tax or declare their vehicle off-road.
For driving licence queries, motorists should use the UK government's website Direct Gov.