Dylan Thomas birthday poem route opens at Laugharne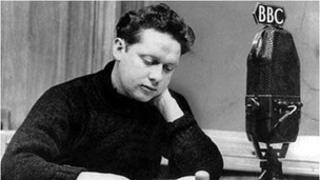 A new walking route has been established in Carmarthenshire to celebrate the poetry of Dylan Thomas.
The two-mile trail, inspired by a poem about the walk Thomas wrote on his 30th birthday, offers views over the Laugharne boathouse where he worked.
It is split in to four sections based on Poem in October, describing a walk to nearby St John's Hill.
A year of celebrations has been announced to mark the 100th anniversary of his birth on October 2014.
In Poem in October, Thomas describes his walk to the shoulder of Sir John's Hill.
Bob Stevens, organiser of the trail through Laugharne woodland, said: "I have created a themed walk based on this poem dividing the well-loved poem into four panels with bench seating, where you can walk in Dylan's footsteps and interpret and see the view and context of the poem."
The panels include information about Thomas's life and work, with verses of the poem printed on plaques.
The walk allows views over the estuary, the boathouse, the Gower peninsula, North Devon, Caldey Island and Tenby.
'Modern day pilgrimage'
Organisers hope to make the town a "pilgrimage" destination for Thomas fans, with visitors walking the trail every year and reading poetry.
Mr Stevens said the idea was "to do the same as Dylan, and return to that high hill on their own birthday, and read out Dylan's prophetic last verse thereby creating a modern day pilgrimage for all to enjoy."
The walk can be done at any time throughout the year.
The boathouse is now a museum owned by Carmarthenshire council.
Estimates show there have been more than 500,000 visitors to the boathouse since it was first opened as a heritage centre back in the 1980s.
In June this year, the Welsh government, the Arts Council of Wales and Swansea and Carmarthenshire councils said they would run a series of events to recognise Thomas's life, work and legacy.