Red Bull Cliff Diving World Series' Pembrokeshire UK debut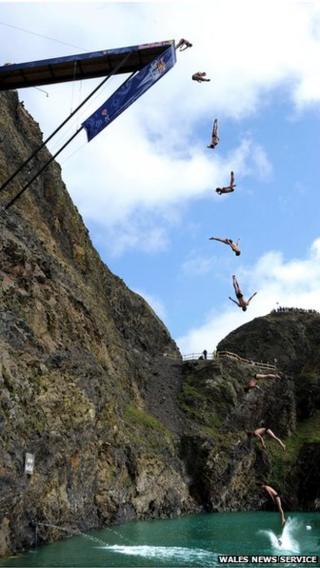 Hundreds of spectators turned out in Pembrokeshire as the Red Bull Cliff Diving World Series made its UK debut.
The two-day event was held at the Blue Lagoon in Abereiddy on Friday and Saturday.
Fourteen of the world's best divers launched themselves from a man-made platform, 27 metres above the Irish Sea into sea temperatures of about 16 C.
American Steven Lobue was the winner, with Colombia's Orlando Duque second and Briton Gary Hunt third.
Local businesses also benefited as the summer holiday season in Pembrokeshire was briefly extended.
Bookings were up for local accommodation in this normally quiet area near St David's, as the cliff diving entourage moved into town.
Matthew Blakiston, owner of The Sloop Inn in Porthgain has had a busy week.
"It's been great for business with bookings every night. I've got 115 from the diving team booked in for dinner on Thursday night and all of the local B&Bs are fully booked in the area".
With a recent victory in Boston, USA, reigning champion and UK diver Gary Hunt performed in front of a home crowd in the penultimate stop on the tour.
"It's impossible to put a limit on a sport like this. Its always a battle with your mind, to push yourself to learn new dives," said Hunt, 28, from Southampton.
"I love the fact that you have to overcome your fears and the feeling you get after accomplishing that."
This season Hunt was joined by fellow countryman Blake Aldridge, 30, from London, a former Olympian who qualified for the World Series in February.
The two have recently been training in Kent, diving off the Maunsell Forts in the Thames Estuary, which were built to defend Britain during World War II.
Cliff divers are judged on criteria similar to Olympic standards with technique, synchronisation of rotations and twists, clean lines and water entry all being scored.
On Friday each diver completed a practice dive followed by a scored dive which ranked them for the head-to-head dives on Saturday.
The dives only last three seconds but during that time, entrants can reach speeds of up 90mph and sustain serious injuries if the technique is wrong.
"The key to a perfect dive is to learn good diving technique first and then build up to a height of 27 metres," said nine-time world champion Orlando Duque, who made the transition after more than a decade of Olympic diving.
"Mental strength is more important though, understanding where you are in the dive and what you need to do," says the Colombian. "Just being crazy isn't enough."
The world tour attracts divers from all over the world including Mexico, USA, Russia, France, UK and Poland and this year visits stunning natural arenas in Australia, France, Norway, Poland, Ireland, USA, Wales and Oman.
"Cliff diving is a seriously individual sport. You can reach out for help as much as you want but when you step out onto the platform and look down at the water, it's just you," said 2012 tour rookie, David Colturi from the USA.