Complaint over councillor's prostitution Twitter 'banter'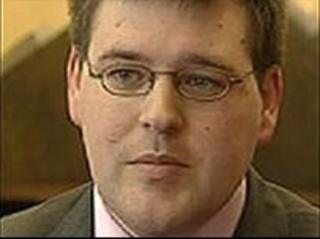 A complaint has been made to a watchdog about a councillor accused of suggesting on Twitter that a woman turn to prostitution to earn money.
Carmarthenshire councillor John Jenkins called the remarks "tongue-in-cheek banter" between friends.
A spokeswoman for the Public Services Ombudsman confirmed a complaint had been made.
She said it would be considered before a decision is taken whether to launch a formal investigation.
Mr Jenkins, who represents Elli in Llanelli as an independent, said: "Someone has obviously gone to a lot of effort to trawl through an archive of my private communications to find something that they can take out of context to make me look bad.
"In no way can private banter between friends, none of which were offended by the obvious tongue-in-cheek banter, be considered offensive."
He said he had been the subject of a "vexatious, politically-motivated complaint" and looked forward to explaining it to the ombudsman if the watchdog thinks there is a case to answer.
According to the Western Mail, Mr Jenkins responded to a female Twitter user who said she needed to earn money quickly by writing: "Prostitution? On a serious note, good money in being in an escort."
In 2006 Mr Jenkins stood down as a Conservative Welsh assembly candidate over comments he made about homosexuality.