Olympics factor in Kidwell-e Festival ending early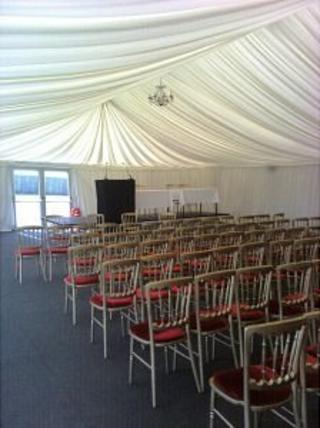 A literary festival promoting e-books and self-publishing ended early after failing to attract enough visitors.
Kidwell-e Festival was expecting 25,000 people at Ffos Las racecourse in Carmarthenshire last weekend, but fewer than 100 showed up.
Organisers said the start of the Olympics and the location could have deterred visitors.
But they pledged the festival would go ahead next year.
The event started last Saturday, but was called off at 13:00 BST on Sunday.
Kidwell-e Festival, aimed at celebrating the e-book, was designed in part to provide a platform for authors interested in self-publishing.
That is where authors tend to pay for printing and distribution costs upfront and, unlike traditional publishers, editors do not decide whether or not to publish a book.
The success of the novel Fifty Shades of Grey by E L James is seen as a boost to the self-publishing business.
Sales of the trilogy of erotic novels have been huge, topping the bestseller list and selling hundreds of thousands of copies.
Kidwell-e Festival founder and author Julian Ruck said his event was important for new writers, and could be where the next self-publishing superstar author was plucked from obscurity.
He said: "Without a shadow of a doubt this is the way forward. [Self-publishing] is democratising for readers.
"The publishing establishment have been the gatekeepers for many, many years. They decide what people read and when.
"The market and the readers are starting to decide now, which is the way it should be."
'Not knocked out'
Mr Ruck, from the town of Kidwelly, said he was regarded as something of a maverick, but he was looking to the future.
"I invested my own money in this festival. In my own humble way I was putting something into the Welsh economy," he said.
Mr Ruck said it was too early to say why people failed to attend, but the economic climate, Olympics, pricing, an entry fee was £15 for one day and £25 for the weekend, and the remote location probably all played a part.
"All these things need to be looked at," he added.
"We are back next year. We have had a punch in the face, but we're not knocked out."
Mr Ruck, author of the Ragged Cliffs Trilogy, said he set up the festival to provide young authors with a chance, and to promote literacy through a children's event running alongside Kidwell-e.
Self-publishing Swansea author Ann Marie Thomas, who was one of about 30 authors due to speak at the festival, said it clashed with the Caerphilly Cheese Festival and the Olympics.
"Ffos Las is only signposted when you're nearby and there were no signs saying: 'Kidwell-e Festival this way'," she said.
"Once inside the festival there was no signage and there was quite a dash between the venues.
"There was no choice of food either, just a burger van. If 25,000 had turned up there would have been quite a queue for food."