RAF Chinook helicopter emergency landing near Saundersfoot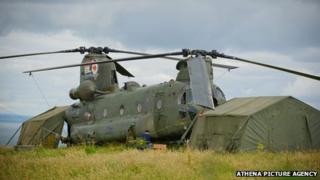 The RAF is investigating after a Chinook helicopter is thought to have hit power lines in Pembrokeshire, forcing the pilot to land in a field.
The incident happened near Saundersfoot and Amroth on Wednesday afternoon and left around 500 homes temporarily without electricity.
The six aircrew and passengers on board the Chinook escaped unhurt, but the RAF said the aircraft was damaged.
It was on a training exercise from RAF Odiham in Hampshire.
The Ministry of Defence (MoD) said the incident happened at around 15:30 BST on Wednesday, and the helicopter landed in a field next to a caravan park in Summerhill, near Amroth.
An MoD spokesman said: "We can confirm that there was an incident involving an RAF Chinook which resulted in the aircraft landing in a field.
"We understand all six of the aircrew and passengers were uninjured but the aircraft sustained damage.
"A specialist technical team from RAF Odiham is being deployed to the site to assess the aircraft and prepare the aircraft for recovery."
Reports that the aircraft hit power lines could not be confirmed and it was too soon to say what caused the accident, he said.
"Whether it was a question of mechanical failure or something else is too early to say at the moment," added the MoD spokesman.
"There is a team out there at the moment looking at the damage that was done and how the aircraft can be taken back to RAF Odiham."
Used to support the British Army in Afghanistan, the Chinook has room for 54 troops or can carry at least 25,000lb (11,340kg) of freight.
It has a maximum speed of 185mph (298 km/h) and is 51ft (15.5m) long, while its rotor span is 60ft (18.3m).