Bearded ex-royal officer Keith Harber refused car hire job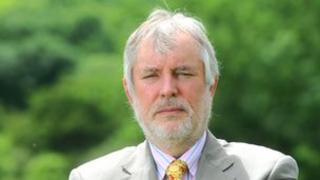 A former police royal protection officer for the Queen has been refused a job interview with a vehicle rental firm because he has a beard.
Former Chief Insp Keith Harber, 61, was told by Enterprise Rent-a-Car it had a "strict appearance policy".
Mr Harber, of St Clears, Carmarthenshire, who has had his beard for more than 30 years, refused to shave when asked by the company.
Enterprise spokesman Spencer King said the policy promoted professionalism.
Mr Harber, who had a beard while he worked at Buckingham Palace, was told he would not get an interview as a car washer and occasional driver unless he shaved off the beard.
"I was amazed - if a beard is good enough for the Queen, then why not for washing cars," he said.
"During my work at Buckingham Palace I would regularly meet members of the Royal Family and none of them ever had a problem with it - some of them even had beards.
"There's no taboo about having a beard, in this day and age especially. Just look at someone like David Beckham, he shows it's fine to have facial hair.
"The beard is a part of who I am. I've had it for so long that even my closest family wouldn't know me without it."
Mr Harber applied online for the post and received a phone call asking him for information, such as if he had any facial piercings or tattoos.
"They then asked if he had any facial hair. I answered, 'Yes, I have a beard'. But then I was asked if I would shave it off. But I said I wouldn't."
Mr Harber said he was then told the company did not employ men with beards.
"I take pride in my appearance, I've always worn a uniform or a collar and tie. My beard is very neatly trimmed and I keep it very smart," he said.
Mr Harber, who worked as head of security at a holiday park in Pembrokeshire until last year said: "I'm going to continue to apply for jobs, I'm hoping I can find a company who are more understanding.
"It would be ideal if I had an interview with someone who had a beard."
Enterprise spokesman Spencer King confirmed the company operated a "specific personal appearance policy" to promote the professionalism of employees.
Mr King said: "Service is a critical aspect of our business and how employees look and dress impacts customers' perception of our brand.
"It's for this reason we ask our employees to conform to a specific dress code.
"For men, this includes wearing a business suit and tie at all times, no earrings, no unkempt hair and no beards, except in circumstances where they have a religious meaning or a medical reason."