Train driver Geraint Llewellyn takes safety message to schools after near-miss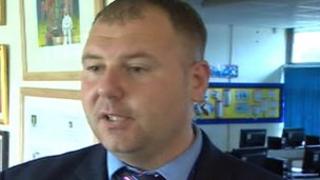 A train driver who narrowly missed hitting two young children having a picnic on a railway is taking his safety message to schools.
Geraint Llewellyn drives First Great Western trains between Swansea and London.
He said he was left "traumatised" after braking at 90mph after spotting two boys eating a sandwich and drinking pop close to the line at Briton Ferry.
He only knew for certain he hadn't hit them after speaking later to police.
Mr Llewellyn, 33, who has been a driver for 11 years, said he was left shaking and unable to drive the train after the incident two months ago.
He came up with the idea for the awareness campaign with his manager Ian Rowlands.
He visited Ysgol y Ferch o'r Sger in North Cornelly, Bridgend, on Friday, which included a DVD presentation from British Transport Police (BTP).
Pupils were also asked to design safety posters as well, which will be put on display at Swansea station.
They will visit Swansea railway station next Friday for a first class train ride, where they will see inside a train driver's cab.
Mr Llewellyn and Mr Rowlands hope to expand the scheme to include other schools.
Mr Llewellyn said: "The near miss happened two months ago at Briton Ferry. It was very traumatic, especially as I'm father with two children of a similar age.
"I went back to Swansea and chatted to Ian about it. I felt we had to do something and we came up with an awareness package.
"An accident obviously has major implications for those involved, but a near miss also has an horrendous impact on train drivers."
Mr Llewellyn said the train he was driving was travelling at 90mph (145kph) in Briton Ferry when he saw the children sitting on the running rail.
"It looked like to me like they were eating a sandwich and having a drink," he added.
"I sounded my horn, but the train horns are so loud that one of the children froze. Thankfully, they both managed to get out of the way in time."
Mr Llewellyn said the BTP caught the two children and escorted them home.
'Children's memories'
Mr Rowlands, who was a train driver for 28 years, said on average drivers experienced "one or two" near misses a year.
"Previous awareness initiatives have not been hard hitting enough. We wanted something that would stick in the children's memories," he said.
"The safety briefing we'll give to children will be interactive and we'll ask them to design a safety poster, with the winning designs displayed at Swansea station.
"Next Friday the children from Ysgol y Ferch o'r Sger will visit Swansea station for a train experience. We'll show them the driver's cab so they can see what the driver sees and they'll have a ride in first class to Bridgend."
The campaign had gained the full support off First Great Western, First Bus, British Transport Police, Network Railand South Wales and West AM Byron Davies, local councillors and MPs.