450 jobs for Swansea as DVLA launches improvements plan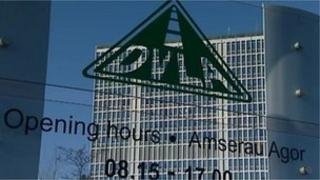 The Driver and Vehicle Licensing Agency (DVLA) says up to 450 jobs will be created at its Swansea HQ as part of an improvement programme.
However, 34 jobs in Cardiff will be lost and 12 in Bangor, Gwynedd, when 39 UK regional offices are closed.
The DVLA says planned improvements to the agency include centralising services and increasing the number of online transactions.
Last month, more than 3,000 Swansea staff took industrial action over cuts.
The DVLA employs more than 6,000 people across Britain, with more than 5,000 of them in Swansea.
It says its reforms will mean the closure of 39 regional offices across the UK.
In Swansea, 30 staff at a local office will relocate to DVLA headquarters.
A further 34 employees in Cardiff, and 12 in Bangor will be consulted on their options.
The Public and Commercial Services union (PCS) says 1,200 jobs in total will be affected by the closures.
The DVLA claims the changes will make it easier for people to deal with the agency, and will save £26m a year.
UK Roads Minister Mike Penning said: "These changes - developed after carefully listening to views expressed at consultation - will ensure that the agency delivers a smarter service to bring real benefits for the motor industry and every motorist in this country.
"I understand that the phased closure of the regional offices will come as a disappointment to those directly affected.
'Top priority'
"I would like to thank the staff in these offices who have played an important part in DVLA service delivery over the years."
Simon Tse, DVLA's chief executive, said: "A top priority for us now is to support our staff who work in our regional offices.
"We will do everything we possibly can to provide help and guidance during what are clearly uncertain times for them.
"We are working closely with the Public and Commercial Services union and those members of staff directly affected to explore all avenues, including possible relocation to Swansea or redeployment within the Civil Service."
Welsh Secretary Cheryl Gillan said it was "testament to the skills and expertise of the workforce that this centre of excellence will be strengthened".
She added: "While these planned closures will come as a disappointment to those affected in the regional offices in Wales, these employees will be offered redeployment opportunities to the Swansea headquarters or potentially to the wider civil service.
"I am reassured that the DVLA will do all they can to support their employees through these changes."
But Mike Hallinan of the PCS union said he saw the announcement as a step in the continuing process of job cuts at DVLA, which would affect staff in Swansea over the next few years.
Hywel Williams, the Plaid Cymru MP for Arfon, said he was very disappointed Mr Penning had decided to close the branch in Bangor, resulting in 12 job losses. He is worried about centralisation and particularly concerned about the impact on a Welsh language service.
In June, more than 3,000 DVLA staff in Swansea held a two-hour strike as part of a month of action.
It came a week after a similar demonstration by Cardiff and Bangor staff.