Afan Lido campaigners renew call for larger leisure centre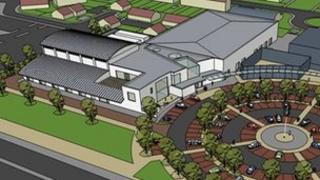 Opponents of plans to rebuild a smaller version of a seafront leisure centre destroyed by fire are calling on their local council to think again.
Neath Port Talbot council plans to spend £13.6m on a six-line swimming pool, sports hall and community centre to replace the Afan Lido in Aberavon.
Campaigners who want a bigger, more flexible facility say a presentation on Wednesday night gave little detail.
The council said it was extending its consultation until 18 July.
A group calling itself Port Talbot People Against Inferior Rebuild of Afan Lido want an eight-lane pool, a bigger sports hall and room for spectators.
'Fit for purpose'
Robbie Phillips, one of the campaigners, said those who attended a short notice meeting on Wednesday evening said they were given a "poor presentation" with no fine detail.
"What we want are facilities that are fit for purpose that fit in with the economic times," he said, pointing to a similar project in Pembrokeshire which cost just £8m.
"They've regenerated Haverfordwest as a town with a pool and a new sports centre.
"They've got booms, they've movable floors where they can have different groups with schools and lane swimmers in at the same time.
"We want a large sports centre where we've got flexibility... it should have been done and dusted by last Monday.
"We are still exerting massive pressure on the officers and the council - what we're saying is this is not personal criticism, this is a win-win situation for you."
The Afan Lido was opened in 1965 by the Queen with Graham Jenkins, the brother of Hollywood star Richard Burton, its first manager.
The venue hosted major concerts from Spencer Davies to Pink Floyd in its early days to Coldplay and McFly in recent years.
In December 2009 the building was gutted by fire and finally demolished in late 2011.