100 year old Swansea City FC song discovered in library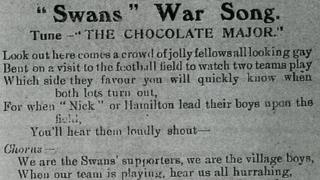 A forgotten 100 year old football song written for Swansea City fans has been found among archives.
Written in 1913, The Swans' War Song is "of its time" and not expected to catch on among fans at the Liberty Stadium when the Premiership season restarts.
Sung to a popular musical hall tune at the time, the lyrics include the line "here comes a crowd of jolly fellows".
The lyrics were discovered in a journal at Swansea Central Library in a history project to mark the club's 100th year.
Funded by the Heritage Lottery Fund (HLF), the Swans 100 project is researching and archiving the heritage of Swansea City FC and marking the team's centenary in 2012.
It is a partnership between Swansea University and the Swansea City Supporters' Trust.
The song was found in an issue of the World of Sport, published in Swansea in February 1913.
It was found by Gwilym Games, local studies librarian at Swansea Central Library who was alerted to its presence by Dr Martin Johnes, a sports historian at Swansea University.
They say it is likely to be the only surviving copy, as no others have been found in the National Library of Wales or the British Library in London.
'Didn't catch on'
Phil Bethell from the Swans 100 project, based at Swansea University, said the lyrics were sung to a tune of a popular music hall song, Here Comes the Chocolate Major.
He said: "We don't know if it was ever sung by the fans at the time, but we're pretty sure that it's the earliest specially-written Swansea Town song.
"When you read the lyrics, it's hard to imagine it catching on today.
"The words are clearly of their time."
He said the idea today of a "war song" seemed aggressive by today's standards although some American universities still have what they call "fight songs" to cheer on their sports teams.
"The origin in this country lies more perhaps in public schools - maybe a reason why it didn't catch on with the Swansea footballing public," said Mr Bethell.
Mr Games from Swansea Central Library identified players mentioned in the song as the stars of the day.
They include the first Swansea captain, Jack "Nick" Nicholas; the Scottish centre half, "Jock" Hamilton; John Coleman, the inside forward who scored the Swans' second ever hat-trick against Luton in February 1913; and Jimmy "Swarby" Swarbrick, a "lightning-fast" left winger.
"Bally" is Billy Ball, a high-scoring Swansea forward celebrated in an early chant "Give it to Bally!"
He was the man to score Swansea's first ever league goal in a match against Cardiff in September 1912.
The magazine is said to be in a very poor condition.
Library staff have scanned a copy to add to the Swans100 virtual archive.
And a paper reproduction of the full magazine is available in Central Library.