Aspers casino: 100 jobs at threat in Swansea's Wind Street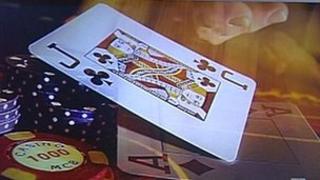 A casino in Swansea city centre is planning to close with the loss of over 100 jobs, five years after it opened.
Aspers will begin a 90-day consultation with its staff, saying the venue in Wind Street is not commercially viable.
Swansea was one of eight cities in the UK to be granted a small casino licence under legislation passed in 2005.
The firm, which opened the £13m casino in 2007, added it wanted to bid for a licence under the new legislation but it has not yet been put out for tender.
Aspers chief operating officer Richard Noble, said: "We have undertaken a comprehensive review of the Swansea site which has determined that the continued operation of Aspers in Swansea does not seem to be commercially viable.
"Swansea was one of the UK's eight cities to be granted a small casino licence under legislation passed in 2005.
"For five years now we have eagerly awaited the opportunity to bid for the licence which would have allowed us to operate a much more viable and enhanced customer experience with a wider offer than a typical casino.
'Difficult decision'
"Unfortunately, the licence has still not been issued for tender. Of course, we have also been battling against extremely challenging trading conditions for the last few years as a result of the downturn in the economy.
"Combined, these factors have led us to the difficult decision to consult on the closure of the Swansea site."
Mr Noble said the casino's staff would be involved in the consultation and should it close, there would be redeployment opportunities at other branches.
When Aspers opened its doors, the casino was expected to attract 10,000 people a week and see £4.5m spent on gambling over the course of the first year.