Arriva petitioned after cutting bus service in Pencarreg, Carmarthenshire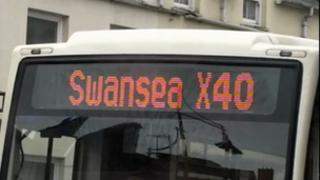 Residents in a Carmarthenshire village have handed over a petition against the cutting of their bus service.
Arriva has scrapped the hourly Carmarthen to Aberystwyth bus in Pencarreg, and some campaigners say they are now practically housebound.
The service was previously partially funded by the public sector, but the Welsh government withdrew funding.
Arriva said the changes would provide "speed, reliability and frequency" for villagers.
The travel company has said people living in Carmarthenshire can use the county council's Bwcabus instead to reach Llanybydder.
Bwcabus caters for a small number of villages and sections of route no longer served.
Arriva said the X40 and X41 routes have been replaced by new services 10, 20, 40 and 41.
The service used to travel on the A485, which is the main road between Carmarthen and Lampeter.
It has been re-routed and turns off at Llanybydder and enters Lampeter from the Ceredigion side of the Teifi Valley.
About 500 residents have signed the petition.
Vera Edwards, 82, a wheelchair user, said: "I've got no means of transport. My husband used to drive, but I lost my husband. I had my three sons driving but I've lost them as well, so, it's really hard."
She said she tried to call the Bwcabus, but she was told she could take someone along to help her if they were registered.
Campaigner Ruth Jones, 83, of Pencarreg, said: "I've got to get a taxi and I've got to pay. It's been very hard.
"I haven't been going out. I used to go on the bus about twice, three times a week.
"It's affected me a lot, my shopping, doctors, hospital, pension."
An Arriva spokesperson said: "We believe that our new timetable will provide a much better service than is currently running.
"Bwcabus, operated on behalf of Carmarthenshire County Council, will cater for a small number of villages and sections of route no longer served by the new Arriva services."