Two die in flu outbreak at two Swansea care homes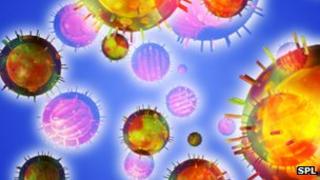 Two people have died and five others are in hospital after a flu outbreak at two Swansea nursing homes.
Public health officials say a total of 17 people have tested positive for the influenza A strain of the virus at the unidentified homes.
Overall, 36 people, including six members of staff at the homes, have reported flu-like symptoms.
Public Health Wales (PHW) said 30 residents at one home have been offered the anti-viral drug, Tamiflu.
Dr Jörg Hoffmann from PHW said: "Fit and healthy people will usually recover from flu without any complications and without needing medication.
"However, in elderly people flu can be more serious and therefore we have treated patients at this nursing home with Tamiflu as a precaution."
Vaccination
The deaths at one of the homes follows a similar outbreak in Cardiff in February and March which also killed two people.
"Flu circulates in the UK between October and April and is not uncommon to see outbreaks in closed communities like nursing homes, where the disease can spread easily," added Dr Hoffmann.
The latest figures for flu infections in Wales show that seasonal flu infections across Wales are below normal levels for the year.
But health officials have stressed the importance of vulnerable people to ensure they have been vaccinated against seasonal flu.
"Seasonal flu vaccination is offered every year to people over 65, pregnant women and people with chronic conditions that make them vulnerable to complications, and it is strongly recommended that eligible people are vaccinated," said a PHW spokesperson.