Nudists on Cefn Sidan beach could be prosecuted, says Carmarthenshire council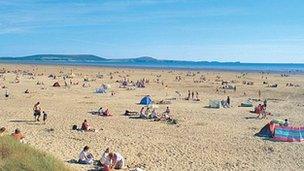 Nudists using a eight-mile stretch of beach popular with families have been told they could face prosecution.
Carmarthenshire council issued the warning after receiving complaints from people who said they were approached by nudists on Cefn Sidan beach in Pembrey.
Signs at the beach state that nudism is not permitted and leaflets have been handed out in Pembrey Country Park.
But the warning has drawn criticism from naturists, as being naked in public is not illegal in the UK.
Using nudity to harass, alarm or distress others is classed as an offence.
The council, which owns the beach, said some people were horrified by the behaviour of nudists on the beach.
They believe some nudists have travelled to Cefn Sidan from around the UK as a result of misleading information on websites and in magazines.
"If genuine naturists turn up and aren't causing distress, life goes on," said a Carmarthenshire council spokesperson.
"It's when there's harassment, alarm or distress to anyone on the beach. That's when we take action.
"There are basic naturists and then there are other group types who would possibly commit acts of gross indecency or lewd behaviour in front of our visitors.
"It is something we are policing religiously and we won't tolerate it.
"We tell anyone to report anything you see and we will get police involved."
The beach and country park area attracts more than one million visitors a year.
Naturists have reportedly visited the area since the 1960s, but nudism has never been permitted and the council previously turned down a formal request to agree to a formal naturist beach setup.
Complaints of nudism on the beach are not new, but have risen as a result of recent warm weather.
In 2009, the council claimed "No Nudism" signs near the beach were vandalised with the "No" scrubbed out after a number of reported incidents.
They hope working closely with police and park rangers will limit the impact on visitors to the area.
Sam Hawcroft, editor of H&E Naturist magazine, said anti-nudity signs could give councils a problem.
Ms Hawcroft said: "The difference between naturism and nudism is a bit of a grey area, but naturism is more of a lifestyle choice.
"Any council or local authority putting up signs would be in breach of the law because it isn't illegal to be naked. To be prosecuted you have to be behaving in a dangerous or offensive manner.
"When incidents like this do happen it spoils it for those not causing a problem. Obviously by all means prosecute those committing the offence, but to lump all naturists together under one bracket is unfair."
Related Internet Links
The BBC is not responsible for the content of external sites.