Morriston Hospital hepatitis B death: Lessons learned, says ABM health board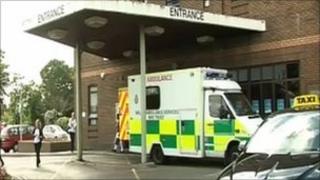 A cardiac patient who died after contracting hepatitis B at a Swansea hospital did not receive a high standard of care, say health chiefs.
Nancy Lane, 68, of Aberaman, Aberdare, died in June last year after contracting the virus as an inpatient at Morriston Hospital.
Mrs Lane's family said they had "grave concerns" about the general level of hygiene when she underwent surgery.
Abertawe Bro Morgannwg Health Board said lessons had been learned.
An independent external review panel was asked to investigate the circumstances surrounding the hepatitis B infection.
The panel has made several recommendations about decontamination, infection prevention and control, staff training and auditing procedures.
It found that the most likely cause of the infection was a contaminated probe.
Hospital managers also contacted 160 heart patients between March and April last year, and invited them for blood tests to check if they had been exposed to the virus.
In January, Dr Neil Wigglesworth of Public Health Wales inspected the cardiac unit to review a number of changes and improvements.
Dr Bruce Ferguson, the health board's medical director, said: "We learned significant lessons from this tragic incident, and moved swiftly to take all actions necessary to improve our protocols and procedures to reduce as much as possible the risk of a case like this happening again."
He said all recommendations were accepted and reassured patients that everything had been done to make improvements.
Mrs Lane's family said she had made a complete recovery from her cardiac surgery in March last year and had been looking forward.
"We are concerned that no other family should have to endure what we have been through and it is particularly distressing to learn that testing showed another patient at the hospital was also exposed to the virus," said the family.
"It is essential that lessons are learnt from this tragic case and that as a top priority, the health board should put in place systems and processes to ensure patient safety."
The family said it had "grave concerns" about the general level of hygiene and infection control at the hospital at the time of Mrs Lane's surgery.
'Sincere condolences'
In a statement, the health board said Mrs Lane's infection and death were a matter of "profound regret", and it offered its "sincere condolences and unreserved apologies".
The statement added: "We did not provide the patient with the high standard of care which she had a right to receive, and for that we are truly sorry."
In his report, Dr Wigglesworth said the health board had made "significant improvements in processes and practices throughout the areas visited".
Meanwhile, Health Inspectorate Wales (HIW) has published a separate report into unrelated incidents at Cefn Coed Hospital in Swansea.
In summer 2010, incidents were investigated by police and one case resulted in a criminal conviction.
Abertawe Bro Morgannwg Health Board said it accepted the report's findings in full, had made improvements and offered its sincere apologies to those affected.