245th Squadron 14th Signal Regiment march in St Davids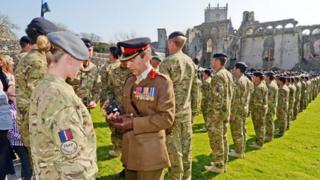 Soldiers who have just returned from a six-month tour of duty listening in to Taliban radio messages in Afghanistan have paraded through St Davids.
Members of 245th Squadron 14th Signal Regiment (Electronic Warfare) marched through the Pembrokeshire city before going on leave.
They were presented with medals at the Bishop's Palace.
The regiment has been based at Brawdy since 1996 and has the freedom of St Davids.
Speaking before the parade Captain Richie Canale, with the regiment, said it was a "two-fold" event, welcoming home members of 245th Squadron, as well as exercising their right to march through St Davids.
He said: "What a huge honour it is for the residents of St Davids to allow us to march through their city.
"The friendship provided by the city of St Davids has continued to support 14th Signal Regiment (Electronic Warfare) throughout numerous operational deployments."
More than 100 soldiers are expected to march, of which about 80 have just returned from Afghanistan.
Wednesday's parade - with bayonets fixed and swords drawn - was scheduled to be their last day at work before enjoying leave.
Their work has been described as "real, life-saving stuff," and involves tuning into groups attacking coalition troops.
On the latest tour they were involved in Operation Herrick, in support of 20th Armoured Brigade.
The parade was led by the Band of the Royal Corps of Signals.