Prostitution ring head Thomas Carroll to hand over £1.9m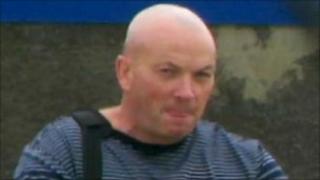 A man who ran an international prostitution ring will have to hand over £1.9m of his criminal profits after losing a court appeal.
Thomas Carroll, 51, controlled more than 35 brothels in the Republic of Ireland and Northern Ireland from his rented family home in Pembrokeshire.
He is serving a seven-year term for vice and money laundering offences.
The Criminal Appeal Court ordered compliance with a confiscation order, stripping him of £1.9m.
Carroll, who lived in Castlemartin, near Pembroke, was jailed at Cardiff Crown Court in 2010 after he admitted conspiracies to control prostitution and launder money.
Three senior judges at London's Criminal Appeal Court ended his legal battle to keep the money after they rejected claims the confiscation order violated his human rights.
Mr Justice Irwin told the court that Carroll was arrested in Wales after a lengthy police inquiry into the brothel ring.
It involved trafficking girls from South America and Africa to the UK with promises of a better life, before they were put to work in the sex industry.
The court heard that Carroll attempted to switch legal teams before the confiscation hearings but, in actions a judge found were intended to "disrupt the proceedings", failed to show up to sign the necessary papers.
He eventually lost his public funding and had to represent himself from the dock. When he was handed a bundle of evidence by the prosecution he threw it in a bin, the judge said.
Carroll's lawyers went to the Appeal Court claiming his lack of legal representation breached his right to a fair hearing, and led the judge to wrongly find he had substantial "hidden assets".
But Mr Justice Irwin, sitting with Lord Justice Moses and Mr Justice King, rejected the complaints and backed the confiscation order, which will see 10 more years added to Carroll's sentence if he fails to pay.
The judge said: "We are quite satisfied that, if this appellant finds himself in the position he is, it is entirely through his own fault.
"He was deliberately attempting to derail the proceedings and delay them."