Anna Ryder Richardson and Colin MacDougall accused of health and safety breaches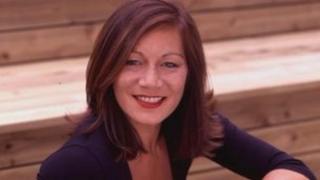 Presenter and wildlife park owner Anna Ryder Richardson is being prosecuted over alleged health and safety breaches after a tree fell on a boy.
The three-year-old and his mother, from Llanelli, were injured on a family day out at Manor House Wildlife Park at St Florence, near Tenby, in August 2010.
Park owners Anna Ryder Richardson and husband Colin MacDougall face two charges each following the incident.
A hearing was held at Haverfordwest Magistrates' Court on Monday.
The case was adjourned until 26 April.
The three-year-old, Gruff Davies-Hughes, sustained serious head injuries and spent time in the high dependency unit at the University Hospital of Wales, Cardiff.
His PE teacher mother, Emma Davies-Hughes, was also injured.
The pair were initially flown to Morriston Hospital in Swansea.
Ms Ryder Richardson, best known for her role as an interior designer on the BBC show Changing Rooms, and her husband Mr MacDougall, said their thoughts were with Ms Davies-Hughes and Gruff.
In a statement, they said: "Ever since a tree fell at the park in August 2010 our thoughts have always been with the mother and her young son who were injured in the incident.
"However, we have been advised that in view of the ongoing case, it is inappropriate for us to comment further at the moment."
Pembrokeshire council, which is prosecuting, said the case against Manor House Wildlife Park Limited for alleged breaches of health and safety legislation opened at Haverfordwest Magistrates' Court on Monday.
A council spokesman said: "The prosecution brought by the public protection division at Pembrokeshire County Council relates to an incident which occurred on 24 August 2010, when a tree in the wallaby enclosure fell, causing serious injuries to a mother and young child.
"The company (Manor House Wildlife Park Limited), company secretary Colin MacDougall and company director Anna Ryder Richardson each face two charges of breaching Sections 2 and 3 of the Health and Safety at Work etc Act 1974."
The wildlife park covers about 50 acres (20 hectares) and is home to exotic animals such as zebras, monkeys and rhinos, as well as having a large children's play area.