London 2012: Torch bearer Jill Edge 'amazed' at selection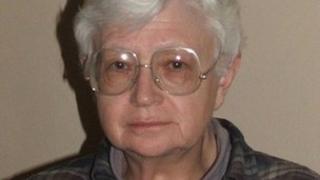 Jill Edge modestly played down the role she has played in helping her community in Pembrokeshire.
The 63-year-old from Fishguard has had Ankylosing Spondylitis - a progressive arthritic condition that affects parts of the spine - since her teens.
But despite being in a lot of pain and undergoing numerous operations, she has continued to campaign for disabled rights.
Jill has also helped set up Cars for Carers, a charity which provides free transport to those caring for elderly or disabled people.
And until recently she ran the Evergreen Club for older local people in Fishguard, who meet once a month with a couple of trips out each year.
Her daughter Jo put in the successful nomination to be an Olympic flame torchbearer in the town in when it travels through Wales from 25-30 May.
"I was amazed," said Jill. "I was flattered by things she said about me. You know your children but I never thought about her thinking about me like that.
"I never thought I would get chosen. I was quite surprised. The phone hasn't stopped ringing.
"You live the life you've got. I do what I think I ought to do.
"I don't know when I started to feel about my community. I suppose I get on with it really."
Jill has also been involved in helping to establish and save two local theatres.
She was part of the committee who in the early 1980s established arts centre Theatr Mwldan in Cardigan and she chairs the committee who have saved Theatr Gwaun in Fishguard.
In nominating Jill, Jo praised her mother for fighting against adversity.
"Mum has also been a fantastic parent, always supportive and encouraging myself and my brother to be whatever we want to be," she said.
"She always taught us to respect other people without discrimination, and showed us that no matter what obstacles you face, you can lead a full and rewarding life."
Torch relay road route in Wales
25 May: Worcester to Cardiff via Monmouth & Pontypool
[54KB ]
26 May: Cardiff to Swansea via Treorchy & Pyle
[57KB]
27 May: Swansea to Aberystwyth via Llanelli & Fishguard
[57KB]
28 May: Aberystwyth to Bangor via Dolgellau & Pwllheli
[50KB]
29 May: Beaumaris to Chester via Llandudno & Rhyl
[51KB]
30 May: Chester to Stoke via Wrexham & Welshpool
[66KB]