Libya detainee Gareth Montgomery-Johnson 'almost unrecognisable' in call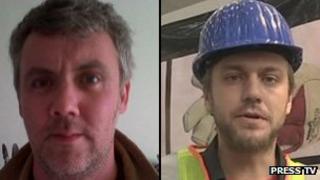 The sister of a journalist detained in Libya on allegations of spying has spoken to him for the first time since he was captured three weeks ago.
Gareth Montgomery-Johnson, 36, from Carmarthen, a cameraman with Iranian TV network Press TV, reported experiencing "mental torture".
Mel Gribble said her brother called her from a consular phone on Sunday sounding "almost unrecognisable".
He is being held with fellow journalist Nicholas Davies from Berkshire.
The pair were taken into detention by the Misrata Brigade militia in Tripoli three weeks ago.
'Faltered with emotion'
Ms Gribble said: "It was a state of urgency to glean as much as we could from the phone call. There was background noise and his answers were mainly 'yes' or 'no'.
"My brother sounded almost unrecognisable and had to tell me who it was at first. His voice faltered with emotion and effort to remain composed."
Mr Montgomery-Johnson told Ms Gribble he was not being physically abused but when asked if he was experiencing mental torture, replied: "Mostly like that."
"I asked him if there was anything else I could do, having commented on how it was being dealt with at the highest level and much press output," Ms Gribble said.
"He emphasised to continue our efforts. I instructed him and Nick to stay strong as we are giving our all.
"There was an exchange of love and I had to hand the phone to my partner, who remained composed."
Ms Gribble later spoke to consular staff in Tripoli who confirmed that her brother was "ok" and told her they would be presenting a full report to the Foreign Office on Monday.
She added: "That is today, and we sit patiently and wait.
"This last week has been torturously slow and seemingly ineffectual, with concerns ranging from the current climate in Libya and my overwhelming concern about the two boys.
"We have no official picture and are left bewildered. We are urged to believe and put faith in the Foreign and Commonwealth Office (FCO), but as a person who believes that if you want a job doing you do it yourself ... it is a situation that tests you to your very limits and back again."
Exercise denied
Later, Ms Gribble said the Foreign Office had told her that the two British detainees had received a parcel from the embassy and that they were "grateful and lighter in countenance".
She said they were not allowed exercise but took it in turns to walk around their windowless cell.
She added that they were continuously questioned by an adviser employed by brigade commander Faraj al-Swehli.
He has claimed the pair had entered Libya illegally.
The militia leader showed reporters in the country footage which purports to show the two men test-firing weapons.
Members of the brigade also produced a field dressing that they said had been found in the journalists' possession.
It was of a type, they said, used by the Israeli military.
A Foreign Office spokesman said: "We also want to see this case resolved. We are providing the two men with consular assistance and embassy staff have visited them on several occasions.
"We have raised their case with the Libyan authorities."