Paracetamol death: Desiree Phillips died after taking too many, inquest told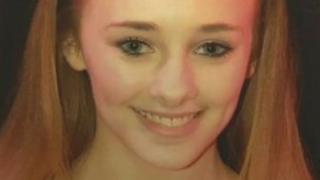 A 20-year-old mother from Carmarthenshire died after taking too many paracetamol, an inquest has heard.
Desiree Phillips, from Llanelli, was buying the painkillers over the counter and the coroner, Mark Leyton, said she may have exceeded the normal dose.
She died in August after suffering liver failure.
The coroner recorded a narrative verdict and said it was not clear whether a gradual build-up or a large dosage was responsible for her death.
Her grandfather Desmond Phillips told the hearing in Llanelli: "Desiree's death was sudden, tragic and unexpected.
"She's had routine surgery for lumps in her breasts which were not cancerous.
"Afterwards she was in a lot of pain - we had to look after her baby because it hurt her too much to hold him.
"She had taken paracetamol to ease the pain - she was taking a few too many over the daily dose but we never expected this to happen."
The inquest also heard from Simon Dewi Jones, Ms Phillips' ex-boyfriend and father of her son Jayden, who was 11 months when she died.
The couple had separated a few months before her death, although she was in a new relationship when she died, the inquest was told.
On 22 August last year, Mr Jones went to her house, and she explained that she wanted to get back together.
Mr Jones said he did not want to resume the relationship, and he left the property after an argument.
Ms Phillips was later found by her new boyfriend Andrew Laycock at her home and he found a number of empty paracetamol and co-codamol boxes around her.
She was taken to hospital where doctors diagnosed liver failure due to paracetamol poisoning.
She was transferred to Queen Elizabeth Hospital in Birmingham but died there on 26 August while awaiting a liver transplant.
'Drug poisoning'
The cause of death was liver failure caused by paracetamol toxicity. The inquest heard that there were high levels of painkillers in her bloodstream.
Mr Laycock told the inquest: "I was concerned because I'd not had any texts from Desiree so I went around to the house.
"She was curled up on the sofa and I could see she's been sick. There were packets of paracetamol there.
"I called an ambulance and she was rushed to hospital.
"A doctor told me it was serious so I waited through the night with her."
The Pembrokeshire and Carmarthenshire coroner said: "Desiree was using paracetamol for pain relief and may have been exceeding the normal dose.
"But it remains unclear whether it was a build-up or whether she took a large single dose."
Mr Leyton added: "The question of intent remains unclear".
'Infectious personality'
Ms Phillips' son Jayden, who is now 18 months old, is being cared for by her family.
After the inquest, her mother Ayshea, 39, said: "Desiree was beautiful and had an infectious personality, she was always bubbly and we were always having a laugh.
"She loved Jayden, she couldn't do enough for him. He doesn't deserve to be growing up without a mum because of this."
A Medicines and Healthcare Products Regulatory Agency spokesman said: "Paracetamol is a safe and effective painkiller when used correctly and when dosage recommendations are followed.
"Every pack has a warning about overdose and instructions not to take more than eight tablets in any 24-hour period."