Just Giving awards for Midsummer Skinny Dip's Alison Powell, and Richard Parks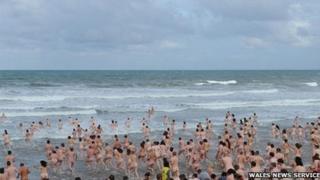 The organiser of a beach skinny dip that saw hundreds of naked swimmers take to the sea has won an award from a charity website.
Alison Powell's Midsummer Skinny Dip at Rhossili, Gower, in June raised over £25,000 for Marie Curie Cancer Care and the National Trust.
She was named most creative fund raiser at the JustGiving Awards.
Meanwhile, former Welsh rugby international Richard Parks picked up the celebrity fundraiser award.
He set a new world record by climbing the highest mountain on each of the world's continents.
The former Newport Dragons flanker reached the North and South Poles and reached the summits of Kilimanjaro (Africa), Everest (Asia), Vinson (Antarctica), Aconcagua (South America), Carstensz Pyramid (Australia) as part of his charity challenge.
He also raised money for Marie Curie Cancer Care.
The Midsummer Skinny Dip saw 414 people take to the sea off Gower, 150 more than the previous mass skinny dip world record.
Mexican wave
Ms Powell, who is originally from Blackwood in Caerphilly county and now lives in Bristol, said the event was "amazing".
She told BBC Wales: "We all met on the beach at 7.30 to eight in the morning. Everyone was clothed at that point.
"We got them all lined up in rows of 10. I went to do a bit of a warm up and my loudspeaker broke so I had to shout.
"I got them doing some star jumps to warm up and we did a bit of a Mexican wave, did a countdown, and then everyone stripped and ran to the sea."
She said the water was "freezing", with the waves "barrelling in".
While delighted to get the award, she candidly admitted being "a little bit embarrassed".
"All I did was ask people to get naked," she said.
"You think of the work the Marie Curie Cancer Care nurses do. They provide care throughout the night for people living with cancer and other terminal illnesses.
"The work they do really deserves to be celebrated."
There were more than 800 nominations for theJust Giving Awardswhich saw the winners announced in London on Thursday.