Tata Steel workers in Port Talbot and Llanwern offered time off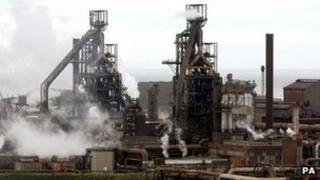 Around 5,000 steelworkers in Wales are being invited to apply to take extra time off at half pay during March.
Tata Steel said the offer to workers at Port Talbot and Llanwern was entirely voluntary and it does not have a set number in mind.
It says the move is in response to tough market conditions.
There will also be some disruption to production due to major engineering works in Port Talbot as part of a £250m investment.
The company said the offer, which it described as a "creative and responsible" way of looking at costs, was being carried out after consultation with unions.
Tata employs around 3,500 people in Port Talbot and 1,500 at Llanwern.
The company's tinplate works in Llanelli and other sites in Wales are not affected.
Major maintenance work is due to start on blast furnace five at Port Talbot.
Tata says it needs to be operating at full capacity by the time it demolishes and completely rebuilds blast furnace four at the site in June.
A spokesman said it was part of £250m it was spending in Wales - its largest investment in the business for many years.
It hopes the order book will have picked up by the time Port Talbot is fully operational again in October.
The spokesman said workers could apply for a week or more off during March.
"It's entirely voluntary. The company does not have a number in mind and is testing the waters," he added.
"It's a creative and responsible way for a business to behave in the circumstances."
The company announced in December it was temporarily mothballing part of the steelworks at Llanwern with the loss of 115 jobs.