Mid and west Wales £1m elderly befriending service launched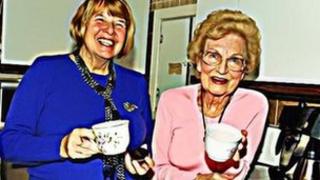 Older people living on their own in mid and west Wales will be able to get out and about and make new friends thanks to a £1m new befriending service.
Some 40 befriending groups will be set up over the next five years with the help of the Big Lottery Fund.
The scheme, covering Carmarthenshire, Ceredigion and Pembrokeshire, aims to combat loneliness by getting people together in groups.
Organisers hope it will help older people make the most of later life.
The West Wales Befriending Links service will provide new opportunities for older people to make new friendships in their local communities.
Project manager Rebecca Thomas said: "Age Cymru Sir Gar regularly gets calls from older people who want to meet like-minded people in their community.
"This service will create lots of new activity groups across the region as well as work to highlight the work of existing groups. "
'Huge need'
Peter Morgan, scheme coordinator for Carmarthenshire, said: "There is a huge need for older people in the community to get together informally with like-minded individuals, to help overcome the feeling of loneliness and isolation.
"This project will go a long way to providing a solution to this need."
Joan Evans has lived on her own in a village in Carmarthenshire for 14 years since the death of her husband, for whom she acted as a carer.
She has been housebound for 12 years and a wheelchair user since she suffered a stroke.
Mrs Evans, who is in her 90s, took part in a pilot project last year, but said that generally she did quite well on her own.
"I'm in a position where I have to be on my own here," she said.
"I have two children, but everybody is working nowadays and they have to divide their time. They have children and that also takes up a lot of their time. My son also works away."
Mrs Evans said whether or not a person suffers from loneliness often depends on what type of person they are.
"I don't mind my own company but I would think that it's a problem for a lot of elderly people," she said.
"It's important in general for people to have company. Most people would like somebody to call them, chat with them"
The project was launched in Llanelli on Tuesday by former Wales and British Lions rugby star Derek Quinnell.