Dylan Thomas Centre: University of Wales leases Swansea building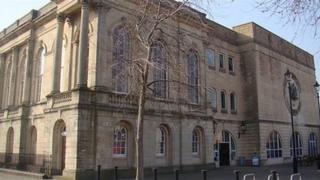 A large part of Swansea's Dylan Thomas Centre is to be turned into a business centre for creative industries.
The University of Wales will lease the building from Swansea council.
More than 200 writers, artists and supporters of the centre have raised concerns about its future use.
Swansea council says the building will retain its name and dedicated exhibition, and will be home to the University of Wales Dylan Thomas Prize for young writers.
A programme aimed at promoting creative writing will also be relocated to the centre.
The council said it could no longer afford to run the centre, which was opened 18 years ago by former US president Jimmy Carter.
It has been negotiating with the university over the lease for the last year.
Legacy continues
Council leader Chris Holley said: "These are difficult economic times when we have to focus the limited money we have on vital front-line services.
"This agreement will secure the Dylan Thomas Centre's future and ensure Dylan's legacy continues to be celebrated and promoted in his home city."
Doctor Who writer Russell T Davies, singer Cerys Matthews and Poet Laureate Carol Ann Duffy were among artists and writers calling for it to be run by a trust.
They said the centre celebrated the literary arts of Wales and had attracted internationally renowned writers to the city.
A small number of council staff will remain at the building to run the exhibition while work is ongoing to redeploy more than 20 others.
Professor Medwin Hughes, vice-chancellor of the University of Wales, said the main use of the building would be as a dedicated business space for creative companies.
The university said it would outline its detailed plans for the site in the near future.