Cwtch community group takes over Swansea's vacant JT Morgan store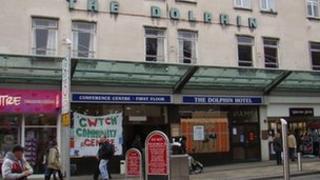 A group which occupied a 66-bedroom vacant hotel in Swansea city centre, before being forced to leave, has moved into a former department store.
The Cwtch Community entered the Dolphin Hotel two weeks ago and wanted to turn it into a local resource, opening up a coffee shop.
But on Tuesday the building's landlord, businessman Altaf Nanji, won an interim order to evict the group.
And it has now occupied the city's old JT Morgan store.
It was thought that about 20 people were involved in occupying the Dolphin Hotel, which has been empty for two years, with "many more" supporters.
The group insisted it had acted legally and gained access via an unlocked window.
It is not known how many people are now in the department store.