Swansea University puts up toilet instruction posters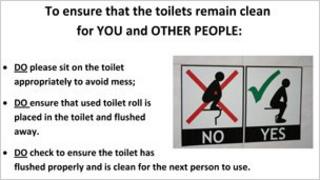 Posters have gone up around a university campus instructing students on how to use the toilet properly.
Swansea University says it has produced them to help address cultural differences.
The posters include images showing students what they should and should not do.
Some students have called them ridiculous but others say they are a good idea to help keep the toilets clean and hygienic.
The images on the posters show a drawing of someone standing on a toilet seat with a red cross and another with a figure sitting correctly with a green tick.
It asks students to ensure used toilet roll is placed in the toilet and to make sure they flush it properly for the next person to use.
In some countries in South East Asia where people squat to use the toilet there are posters informing Westerners how to use them.
In parts of the Middle East where plumbing systems cannot cope there are posters informing people not to put toilet roll down the toilet but in bins.
A university spokeswoman said: "Swansea University is a multi-cultural campus community and the informational posters were produced, for use in both male and female facilities, to help address cultural differences that were unfortunately causing damage and hygiene issues.
"The information was produced in conjunction with the International College Wales Swansea (ICWS) and displayed in key areas around the campus.
"Since the inception of these posters, the situation has greatly improved in the affected areas."
Images of the posters have appeared on Twitter with some students criticising them.
Student James Trott told BBC Wales: "It's a bit stupid really... it's just pretty damn funny."
But Temi Coker said she thought they would be useful to some students.
"There's nothing demeaning about it. It's just an instructional poster."
Her friend Teresa Jenkins said she welcomed any move that would improve hygiene on the campus.
"It is important to do as much as possible to keep the toilets clean," she added.