Virgin Media creates 250 jobs in Swansea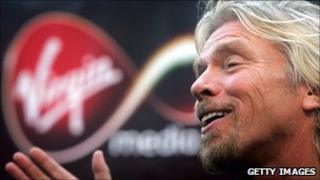 Virgin Media has confirmed that around 250 new jobs are being created in Swansea.
The company is expanding to meet demand for its TV offering, TiVo, and superfast broadband service.
A total of 620 jobs are being created nationwide with the majority of the new staff being based in Swansea and Manchester.
The company said 500 customer service positions will be offered in its call centres and training will be given.
The business is also looking for 120 people to train as engineers as part of its apprenticeship scheme.
The positions, aimed at young people, will be spread around the UK, but specific areas have not been confirmed.
"The new jobs that we've announced today will ensure we're meeting the increasing demand for our next generation digital products and will help our customers get the kind of service they expect from a Virgin company," said Paul Buttery, chief customer and networks officer.
'Fantastic'
"This investment will benefit a number of communities across the country and we're particularly proud that we're able to provide so many young people with a much needed start in these challenging economic times."
The news comes as Virgin Media announced it returned to profit in the final three months of 2011.
Strong demand for its new TV service and Virgin's broadband products helped it make £48.2m in the fourth quarter. That compares with a loss in the previous quarter of £73.8m.
Swansea council leader Chris Holley described the jobs as "fantastic news" and a boost during the difficult economic climate.
He said Swansea has an "outstanding reputation" in the service sector with the Admiral Group and Virgin Atlantic employing thousands.
"The city has a proven a track record in attracting companies of this nature and this news will help generate further investment in future," said the councillor.