Carmarthenshire council funds Mark James libel fight with blogger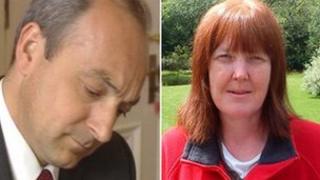 A council is to fund its chief executive's legal fight with a blogger.
Carmarthenshire council head Mark James is being sued for libel by Jacqui Thompson and he is counter-suing her.
The authority's executive board has agreed it should cover his legal costs citing the "exceptional circumstances" involved.
Mrs Thompson of Llanwrda, who runs a blog that has been critical of the authority, said it was "outrageous" his legal bills were being covered.
Last June she was arrested and released without charge after a row broke out about her filming a council meeting.
In November, she issued a writ against Mr James, alleging comments he made about her following the incident were libellous.
He is counter-suing her, alleging she has libelled him. Both are defending the claims.
The council's executive board was asked to cover his costs and has agreed to do so.
Legal advice
The council's constitution was changed four years ago to allow council funds to be used in defamation cases due to a different case.
In a statement the council said: "It is confirmed that defamation proceedings have been brought against Carmarthenshire county council and its chief executive by Mrs Jacqui Thompson, and, based on legal advice, that action is being defended.
"As the matter is sub-judice it would not be appropriate to comment further at this time."
The council did confirm Mr James was counter-suing Mrs Thompson.
It said the executive board had unanimously agreed to grant Mr James indemnity for the costs involved due to "exceptional circumstances."
Mrs Thompson, a community councillor, runs a blog called Carmarthenshire Planning Problems and More.
She said: "I think it is outrageous that taxpayers' money is being used to allow Mr James to sue me for libel.
"As far as I know, Carmarthenshire is the only council in the UK that changed its constitution to allow its money to be used in such circumstances.
"I will be defending the case and shall be taking further advice from my barrister."