Rock climbing with baby on board for Menna Pritchard and Ffion, two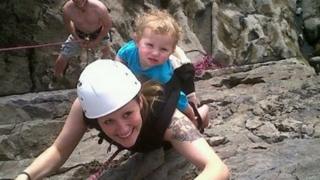 A mother who wants to promote family-friendly climbing and outdoor activities has insisted that the practice is safe.
Mother-of-one Menna Pritchard, 26, who has scaled a few routes including Gower's Three Cliffs bay, with her daughter Ffion, now two, on her back has said the climb pictured was "100% safe" from falling rocks.
After receiving attention from the picture posted online of Ffion without a helmet, Ms Pritchard was quick to stress she never did anything she believed would put Ffion at risk.
"The route I was climbing with Ffion [at Three Cliffs], there was no risk of any rock fall. I knew 100% it was safe," she told BBC News.
"The person below me was very competent, I had a mountain climbing instructor there too and I'm pretty confident of my own competence.
"I was top-roping [which prevents a climber falling down the cliff surface], which is very safe."
Ms Pritchard said a number of mothers had initially questioned the photograph on her Facebook page but had accepted her explanation that the climb did not put Ffion in danger.
She says while she has done a number of climbs with Ffion on board in the past, the majority of her activity with her daughter is hill-walking in a sling. Both are things she is keen to promote to other mothers, especially those like herself who are lone parents.
Ms Pritchard's early life in Kent did include mountain walking courtesy of her parents, who moved there from the south Wales valleys just before she was born.
However like "a typical teenager" she chose going into town with friends over the outdoor life as she hit puberty.
Following school, she studied fine art for a while and then paediatric nursing but did not complete either course, commenting that she was "almost was too over-emotional to be a nurse", and worked for a few years doing PR in Brighton.
It was only with the birth of her daughter and a move just 12 weeks later to be near her parents, now back in Wales at Llanwdra, Carmarthenshire, that a love of being outdoors developed.
A fan of babywearing, also known more prosaically as using a sling to carry a child, Ms Pritchard explained: "It was very much having Ffion and being a full-time mum that I started getting outdoors with her. I was keen to explore the surrounding area as I didn't know it."
Ffion had her first trip up a Welsh mountain, Pen-y-Fan in the Brecon Beacons, aged four months, which she slept through in her sling.
She continued: "I've only climbed with her on my back a couple of times but I started climbing in earnest just over a year ago.
"There's certain locations that I wouldn't think twice about taking her to such as Three Cliffs which is a beach location and very safe.
"The majority of it is hill walking with her. We've done various of the mountains around with her.
Ms Pritchard has written online about her experiences with Ffion and climbing and says the reaction is usually positive.
"My real passion is just getting people outdoors with their kids, and I wouldn't want to put anyone off. I've had feedback on my blog and Twitter from people who said they've found it an inspiration, and have asked for advice on types of slings and things."
She found being outdoors with the baby therapeutic, and helped her deal with the "darker days" of single parenthood. "Being outdoors having a child can help you rediscover your sense of awe and wonder," she noted.
From her activities, she found a course at the University of Wales' Trinity St Davids college and is now halfway through a degree in outdoor education. In addition, she works on an ad hoc basis at Gower Activity Centres as an instructor with school and social service groups doing hill walking, surfing, orienteering and the like.
'Keeping it fun'
Her next ambition is to produce a guide to areas which are good for families to climb and experience the outdoors.
She explained: "It's not just a rock climbing guide - within those areas there are other things for children to do.
"They guide would contain maybe the animals you'd find in rock pools nearby, or mini beasts you could look for.
"It would be much more educational than just rock climbing guides." She hopes to be able to work on the guide alongside her other numerous activities and get in published in the next year.
And what does Ffion think of the active life they lead? "She's showing an interest in climbing herself. When we go to an indoor climbing wall she says she wants to do it herself, not on mummy's back," said Ms Pritchard.
"My main motivation is keeping it fun for her and if she ever gets scared I'd never force her to try to do anything. She even has her own helmet and ropes."