Cwtch community group occupies Swansea's empty Dolphin Hotel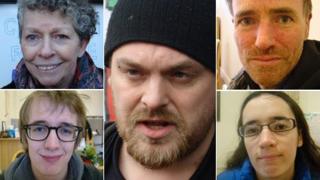 Around a dozen people have occupied a 66-bedroom vacant hotel in Swansea city centre.
The Cwtch Community Centre group says it aims to turn the Dolphin Hotel into a local resource and has already opened a coffee shop since gaining access on Monday.
The group insists it has acted legally and gained access via an unlocked window.
South Wales Police and Swansea council are both monitoring the situation.
They say there are about 20 people involved in occupying the building, which has been empty for two years, with "many more" supporters.
Those who spoke to BBC Wales included a grandmother, a political activist, an organic gardener, civil servant and an A-level student.
A 26-year-old graphic designer who went by the name "Rev" is one of the main organisers.
He said he came to Swansea to study from Manchester four years ago and, while he was a founder member of the Occupy Swansea movement, he said the group who had taken over the hotel was non-political.
"Different backgrounds"
"Every single one of us is against the idea of occupying a used space but this hotel had been empty for years and is it right it should just be left to rot?," he said.
"We are open and honest and want to use this as a safe space for community projects - open it up for use by groups and individuals."
They intend occupying the building around the clock but not everyone will stay overnight.
While "Rev" said it was now his main residence 28-year-old public sector worker Rhian said she was helping out as her shifts allowed.
"I'm off work for three days so am just pitching in," she said.
"People are crying out for a free space and somewhere they can meet and chat that's not mediated by money and how much you've got.
"We've seen people today from all different backgrounds and age ranges."
During the course of Tuesday supporters dropped off supplies while some members of the public went in for tea or coffee which was free, although there was a donation box for those prepared to pay.
And while most seemed curious as to what was happening not everyone was supportive of their actions.
Several passers by shouted that they should leave the building immediately.
Police officers and city centre rangers were regularly seen but did not stop and neighbouring businesses were not keen to share their thoughts - although a rival coffee shop just up the road did supply the campaigners with water.
Another of the occupiers, D Murphy, a 58-year-old charity office manager, said they had been looking around the city for several months for an empty building suitable for use as a community centre.
Business concerns
"We are a motley crew - a mix of people - and there's a lovely feeling to it," she added.
"Yes one or two of the local businesses have some concerns because they don't know what we are about.
"I think given time they will see we are open, friendly, not overtly political and just want to give something back to the community.
"There's an absolutely strict no drink and drugs policy and that's the number one rule we have."
Another helping out was 45-year-old Ed Revill who has run a small holding on south Gower for the last 18 years.
He said those involved in the group were neighbours and friends.
"We are not taking anything that's being used by anyone else.
"There are thousands of empty properties and I've always been concerned about environmental sustainability issues as we can't go on as it is now."
Seventeen-year-old A-level student Caradog Jons said he found out about the occupancy on Facebook.
"I came down about 6pm yesterday and stayed the night," he said.
"Some people have a certain image of squatters but by making it a safe place hopefully people will judge it on its own merits."
The freehold of the land is owned by Swansea council with a bank owning the head lease.
It is believed this is then sub-let to a business.
Both the council and South Wales Police said for the moment they were simply monitoring the situation.