Swansea's Singleton Hospital patients told not to feed birds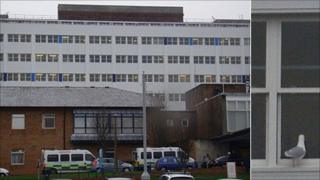 Managers at a hospital undergoing a £3m facelift are urging patients to stop feeding birds from their sick beds.
Around 500 new windows are being installed at Swansea's Singleton Hospital and the front of the seven storey building re-clad.
Seagulls and pigeons are perching on the new windowsills and are already creating a mess.
The ABM University Health Board said it was asking patients not to encourage them.
It is also looking at installing deterrents to stop birds from landing there.
A health board spokeswoman said: "We would ask people not to feed the birds from the hospital windows as this encourages them.
"We are also considering installing deterrents to stop bids from landing on windowsills, and with this in mind we will shortly be trialling a system outside one of the wards specifically designed to deter birds.
"The system will not harm the birds but will make it difficult to land."
Work on the hospital started in November and is due to be completed in March.
As well as the windows and cladding the existing balconies - not currently used - are being given a new lease of life so patients and visitors can enjoy the views over Swansea Bay.
The Health Board asked members of staff and the public to help choose the colour of the new external panels and the winning colour was blue.
Stonework is also being repaired.