Beach Break Live: Extra security for Pembrey festival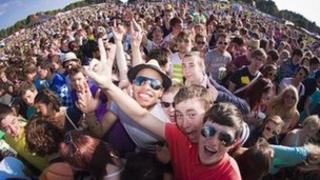 Organisers of a student music festival in Carmarthenshire have agreed to improve security for this year's event after concerns from police.
There will be better CCTV coverage, fencing and extra patrols at Beach Break Live at Pembrey Country Park.
Police asked the council to review the licence for June after a rise in arrests and drug seizures last year among 20,000 festival-goers.
Organisers say they are confident the changes will solve any concerns.
This year will be the third time the four day festival is held in the council-run park.
Dyfed-Powys Police said at last year's event, headlined by Tinie Tempah and White Lies, 52 crimes were recorded with 25 arrests.
Chief Insp Mark Bleasdale told a meeting of Carmarthenshire Council's licensing committee: "Our main concern from last year was the operation of the the CCTV system."
He told councillors police had considered closing the festival because it was malfunctioning so badly.
He also said gaps in the fencing meant people without tickets were coming and going from the site and there was concern that many of those arrested did not have tickets and were not students.
Mr Bleasdale said officers had met with the organisers to discuss planning for this year's event between 14 and 18 June and changes to the licence.
"All of our concerns have been addressed," he added.
When plans to stage the festival in Carmarthenshire were first announced there was strong local opposition to it but the committee heard it was only the police that had raised concerns about the licence this year.
A study by Bournemouth University found the 2010 event contributed over £2.4m to the local economy.
Festival manager Gus Corcoran told Monday's meeting: "We are quite confident this year through correct planning that we should be able to tackle the problems we faced last year.
"We are looking forward to working with the police to create a safe and successful event for the benefit of the whole of Carmarthenshire."