Jeffrey Gravell trial: 715 most serious images found, Swansea jury hears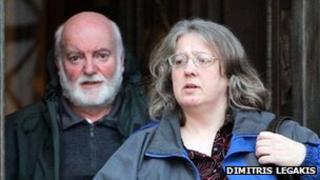 Equipment found at a school computer manager's home contained hundreds of the most serious category of child indecency images, a jury has heard.
Jeffrey Gravell denies possessing nearly 400,000 indecent images of children, and theft at the court in Swansea's Guildhall.
A police computer expert said 715 images were classified as category five, the most serious type.
Mr Gravell, 53, of Burry Port, claims he knew nothing of these images.
The computers found at Mr Gravell's home belonged to Coedcae School in Llanelli where the defendant had worked for more than 10 years as computer manager.
Knew nothing
Simon Davies, from Dyfed-Powys Police's high-tech crime unit, told the jury he found the images on the computers and CDs at Mr Gravell's house.
He explained that a five-grade system was used to classify the seriousness of indecent images.
He confirmed that in all more than 391,000 still pictures and videos were found in his examinations of the computers and CDs.
371,000 of them were in the least serious category, more than 6,000 in each of more serious categories two, three and four, and 715 in the most serious indecency category.
Mr Davies had earlier told the jury he had in his career been involved in more than 200 cases involving indecent images of children.
In this case he found names given to computers had been taken from the Simpsons' cartoon series.
Individual files included names like "kiddy porno" and "Lolita sex".
Mr Gravell's defence is that he knew nothing of these images and they must have come from the Coedcae school network. He has said he readily took equipment home for repair and to learn about it.
He also denies theft of computer equipment.
On Tuesday, the court heard from Coedcae School's former bursar Alan Williams, who said he had never given permission for Mr Gravell to take school computers home.
Mr Gravell's partner, 43-year-old Helen Griffiths, denies theft and handling stolen goods. The case continues.