Stradey Park rugby ground: Final go-ahead for homes in Llanelli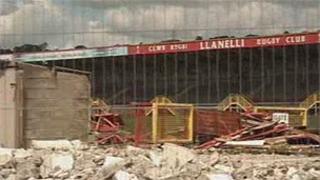 A High Court ruling has given the final go-ahead for a controversial housing development on the site of the former Stradey Park rugby ground.
Developer Taylor Wimpey was originally granted planning permission to build 355 homes in 2007.
But campaigners, concerned about flooding and sewerage capacity, were granted a judicial review.
However, His Honour Judge Milwyn Jarman QC dismissed all four challenges brought.
The judicial review claim was issued last year by protester and cockle-picker Thomas Hughes, Llanrhidian, in Gower.
Mr Hughes argued he had lost his home and earnings of £500,000 over a decade as a result of mass cockle deaths in the Loughor Estuary.
It has been argued, but not proven, that the depletion in cockle stocks was as a result of sewage being discharged into the area.
He argued Carmarthenshire Council was in breach of environmental regulations and other points relating to planning matters.
Reserved matters were approved by the local authority after outline planning permission was granted by the Welsh assembly, following a public inquiry into the proposals for the site.
The judge dismissed the arguments that the council had breached habitat regulations; that the council's head of planning had exceeded his delegated authority by approving reserved matters; and that the council had failed to comply with its own policies on flooding.
Council leader councillor Meryl Gravell was "very happy" with the result.
"This issue has been dragging on for a long time, so it is pleasing that we can now move forward," she said.
The authority's costs in defending the case are estimated to be around £13,000.
But environmental campaigner and Llanelli councillor Bill Thomas plans to lodge an appeal.
"The barristers said if we won, the council would appeal and if they won, he was advising an appeal," he said.
"But it's down to Tom - he will be discussing it with the solicitors. Every one of these cases up to now has ended up in the House of Lords."
Llanelli Scarlets moved to a new purpose-built stadium Parc y Scarlets after more than 100 years.
The last match was played at Stradey in October 2008.