Ammanford police station too costly, says force chief Ian Arundale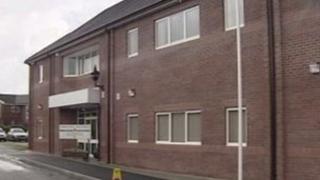 The Dyfed-Powys chief constable says a privately-financed police station that costs hundreds of thousands of pounds each year is not value for money.
Ian Arundale says the Ammanford station, opened in 2001, is too costly and the wrong design on the wrong site.
The force will spend £700,000 of a £3m total property budget on it this year, with the cost rising until 2031 under the Private Finance Initiative (PFI).
A senior councillor says the building is under used and only open in the day.
Dyfed-Powys Police spends around £3m running over 50 properties.
Mr Arundale, who joined the force in 2008, told a local newspaper it would try to renegotiate the terms of the PFI agreement.
"We are just not receiving value for money," he said.
"These are challenging times in which I'm having to make 20% cuts in real terms - and there's no instruction manual on how to do it."
But he pledged there was no threat to the police presence in the town.
The station was reported to have cost about £3m when it opened.
The force must find savings of £34m by 2015 and £13m in each subsequent year.
Local councillor and deputy leader of Carmarthenshire council Kevin Madge told BBC Wales the station was now only open during the day and much of the building was not used.
"The promise was a Rolls-Royce police station when it was being built and we've ended up with a Mini and people are very angry," he said.
"In fairness to the chief constable he has inherited this and is being honest.
"This is an example of the worst of PFI."
BBC Wales has asked Dyfed-Powys Police to clarify how well used the station is.
"Fundamental reassessment"
The Conservatives in Westminster introduced PFI in 1992 to allow private companies to finance, build and run public sector projects including hospitals, schools and council offices.
It was expanded under Labour although Chancellor George Osborne announced a "fundamental reassessment" of the use of PFI contracts in November in a bid to cut costs.
Plaid Cymru AM Rhodri Glyn Thomas, whose constituency includes Ammanford, said: "Given the tough economic climate and a 41% cut in capital funding from the UK government, we cannot be tempted to continue with such an expensive funding method."
He said his party had suggested setting up a not-for-distributable profit company with the potential to raise up to £500m for infrastructure projects in Wales.
The Welsh government said PFI was "discredited" and it did not use it.
A spokesperson said: "We are actively exploring other opportunities, including pressing the UK government to allow us to exercise our borrowing powers and considering innovative ways of raising capital including 'not for profit' and public/private partnerships."