Premier League Swansea City FC announce £8.2m losses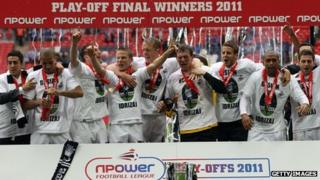 Swansea City FC say winning promotion to the Premier League has contributed to a loss of £8.2m for the financial year ending 30 May, 2011.
The Swans reached the top flight after beating Reading 4-2 in the Championship play-off final at Wembley last May.
Bonuses and transfer fees were among the reasons cited for the losses.
But the club's board says that income from the first season in the Premier League should cancel out the losses next year.
In a statement, the board said Swansea's operating budgets for 2011/12 are structured this way to maintain the philosophy of running a financially stable football club.
"While the accounts reveal an overall loss after tax of £8.2m, which was consequently unavoidable after our Wembley win, the large amount of income generated in the Premier League has subsequently enabled these liabilities to be adequately met in the current financial year," a board statement said.
"The accounts for the current financial year ending May 31, 2012, will be adversely affected by an increase in operating costs, particularly payroll, but our resolve is to realise sufficient profit to counter the 2010/11 loss, and our operating budgets are structured to make this happen.
"With regard to the future, our immediate goal is to consolidate our position in the Premier League and ensure we survive this season.
"Our long-term goal will cater for Swansea City remaining as a top flight club and to continue to contribute in part to the feel good factor and prosperity in the local community.
Promoted clubs
"We will not, however, do this in any way that puts the club's financial stability at risk. This remains paramount in our management philosophy.''
Other contributors to the losses includes a rule that promoted clubs from the Championship pay money to clubs relegated from that division.
As play-off final winners, the Swans also forfeited their share of the Wembley gate receipts because of another rule.
In the previous financial year, Swansea City made a profit of nearly £600,000.