Paralympics role for thalidomide barefoot masseuse Sue Kent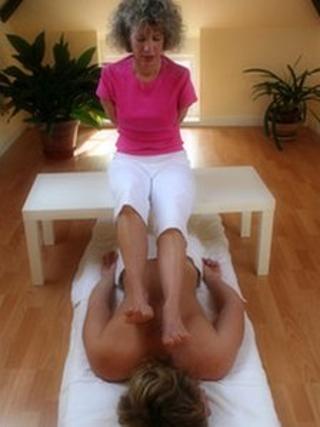 A woman born with short arms after her mother took thalidomide has been taken on by the Paralympics to give massages with her feet to athletes.
Sue Kent, who was born with eight-inch arms, believes she is the only sports massage therapist in the UK qualified to treat people this way.
The 49-year-old from Swansea said she understood the toll sport can take on disabled people's bodies.
She said: "It's been my dream to be part of the Paralympics in some way."
Sceptical tutors
Mrs Kent was born with short arms and seven fingers after her mother took the drug thalidomide during pregnancy to help with morning sickness.
But she said she has always tried to overcome any challenges she's faced.
While studying for her sports massage qualification at the University of Wales Institute, Cardiff (Uwic), she said some tutors were sceptical that she would be able to do the therapy using just her feet.
"I was keen to overcome all the challenges and worked out my own way of doing things," she said.
"The majority of people I have treated are curious at first but then they say it feels like a really big hand - but it's better as you're covering more surface area.
"I treat a lot of men and have had weightlifters as it can give a very firm massage.
"I have to be able to use my toes to be very specific with trigger points but I also have to do the neck, so that means I need to be gentle.
"And stretching is fun as I have to place people's feet under my armpits."
Mrs Kent said she turned to massage after she gave up her job in marketing and advertising to look after her parents when they were ill.
She found her calling after she started massaging her son after he developed a bad back from sailing.
She qualified three-and-a-half years ago and set her sights on working at this summer's Paralympics, gaining extra qualifications and experience of working at sports events, like triathlons, runs and an Ironman competition.
Personal goal
"When I found out I was accepted at the Paralympics I was so excited as it was a personal goal I'd had as I'd wanted to see if I could be involved in sport in some way at a high level," said Mrs Kent, who set up her Enjoyfeet company and works in Swansea and London.
"I also wanted to raise the profiles of disabilities in a different way. I hope I inspire other disabled people and show that they don't need to do a job that's just about sitting behind a desk with a computer."
She said she only faced "people being aggressive" about her disability after leaving her "sheltered world" of school and bringing up her children.
"So I thought I have to get out there," she added.
'Phenomenal athletes'
"The more people see it [disability], the more normal it becomes and the less people will be stupid."
She is also taking part in the Celtic Challenge, where she will be cox for Mumbles Rowing Club's team attempt to cross the Irish Sea in May.
"I really do understand the toll exercise can take on the bodies of disabled sports people," she said.
"So for the guys at the Paralympics to be doing what they're doing is phenomenal. I can't wait to be part of it."