Pembroke Dock WWII mine tragedy memories plea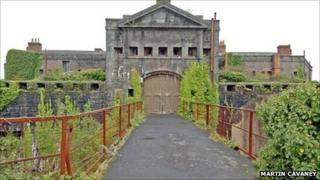 A plea is being made to residents who lived through World War Two and remember a land mine accident that killed 19 people in Pembroke Dock.
There are plans to commemorate the 70th anniversary of the tragedy in April.
Eighteen men were killed instantly and another died the following day after a training course went wrong.
The town's museum trust wants to speak to people who remember the incident as it was not widely reported due to wartime censorship.
It happened on the morning of 28 April, 1942 at the Defensible Barracks overlooking Pembroke Dock.
Two explosions
Martin Cavaney of the Pembroke Dock Museum Trust said a group of soldiers with the Pioneer Corps were undergoing instruction in the disposal of land mines at the old fort.
"No one knows what actually happened but we believe there were two explosions," he said.
"Eighteen men were killed instantly and another died the following day.
"There was very little reported at the time because there was a wartime censor."
The trust is to unveil a plaque at the barracks.
"Despite Pembroke Dock being very heavily bombed during World War Two it was the single largest loss of life in the town," said Mr Cavaney.
"We just felt it should be marked so we are going to unveil a plaque with the names of all the servicemen on it."
Eighteen of the men are buried at the Llanion Military Cemetery in the town.
Some of the relatives of those killed will attend the ceremony but Mr Cavaney said the trust wanted to speak to anyone who remembered the tragedy or had relatives who did.
German Jews
"There were six Naafi [Navy, Army and Air Force Institutes] girls who, coming into work, one of them was injured, and there was a good chance at least one of them was local," he added.
"What we are looking for is local memories because it was not very well reported and we are missing that tantalising link."
The only man to lose his life from Wales was John Brenig Jones from Nantgarw near Cardiff.
Others were from Scotland and England.
"Perhaps most tragically three of the men were German Jews who had escaped from the Nazis prior to the war and had volunteered," said Mr Cavaney.
Anyone who can help is asked to contact the museum trust.