EuroMillions: Cage fighter Gavin Davies from Neath scoops £1m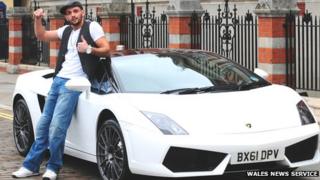 A professional cage fighter from south Wales has been revealed as a mystery £1m EuroMillions lottery winner.
Gavin Davies, 29, from Cimla, Neath, will spend a chunk of the winnings on his dream car - a £200,000 Lamborghini Spyder.
The father-of-one hit the jackpot two weeks ago but failed to realise after forgetting to check his ticket.
Mr Davies, who nearly died in a motorcycle crash six years ago, says the win has come at the right time.
Mr Davies, who lives with his partner and month-old-son, bought four tickets for the EuroMillions draw on Tuesday 27 December but had forgotten to check the EuroMillions Millionaire Raffle numbers on each ticket.
It was only after his grandparents urged him to check his numbers last Friday that he realised he held the winning ticket.
The former martial arts teacher said: "I was feeding our newborn son, and as soon as I had got him to sleep, I decided to go out to the car to get my tickets which I had been keeping in the glove compartment.
'Jumping with excitement'
"I had written down the number printed in the local paper, and checked them against all of my tickets. When I saw the match I couldn't believe it.
"I went online to the National Lottery website to confirm it and I was jumping up and down with excitement as soon as I realised it was mine."
In 2006 Mr Davies was in a serious motorcycle accident and spent nine months in hospital recovering.
He said: "The last few years have been very up and down, but this win couldn't have come at a better time.
"I always knew I would win the lottery one day, and now my dreams have come true."
Apart from splashing out on his dream car, Mr Davies plans to be careful with the rest of his fortune.
He said: "I have always dreamt of owning a Lamborghini, and I will also be treating my partner to a new car as well as taking my mum and the rest of the family on a holiday.
"But the rest of the money will be spent on a property and on other investments for mine and my family's future."